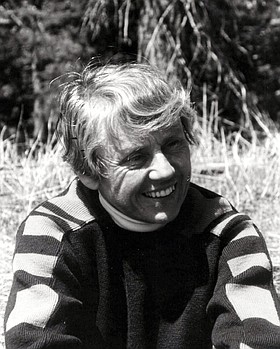 Kate Rogers McCarthy
June 17, 1917 - November 3, 2015
Kate Rogers McCarthy was born in Portland, Ore., June 17, 1917, to Homer and Elizabeth Smith Rogers. She died at home in Parkdale of natural causes Nov. 3, 2015.
Kate's father settled on land 4 miles south of Parkdale in 1909 and built the Mt. Hood Lodge. Kate spent most of her summers on the land south of Parkdale but then moved to Portland for the winters to attend Miss Catlin's School for Girls, which was founded by her great aunt and is now Catlin Gable School. During her high school years she and her younger sister, Betty, ran a camp for girls on the family property near Parkdale. After high school Kate attended Reed College, Yale Nursing School and graduate school at the University of Oregon Medical School. On May 2, 1942, she married Gerald (Jerry) S. McCarthy in Portland, Ore. She and Gerald raised four sons in the Seattle-Tacoma area and Roseburg, Ore., before returning to Parkdale in 1968 to stay.
Kate hiked and rode her horses on the trails in the meadows and forests around Mount Hood and in the Gorge from early in her childhood. Her passion was to protect these special natural places for wildlife and for the enjoyment of others at the time and in the future. She photographed many of these treasured places on Mount Hood and left a large collection of color prints.
She also believed in preserving farmland and was active in helping to implement the Oregon Land Use system in Hood River County. In the mid-1970s she and some of her Parkdale neighbors encouraged the county leaders to hold an advisory vote on zoning options. The Advisory vote strongly supported protecting agricultural zoning and was influential in creating the present predominantly agricultural zoning in the upper valley. When a large destination resort was proposed south of Parkdale, Kate and friends founded the Hood River Valley Residents Committee which grew to 1,200 members who lobbied in opposition of the proposed resort. The resort proposal was ultimately denied by the Hood River County Planning Commission. The Hood River Valley Residents Committee remains active today working to keep Hood River County a special place to live.
Kate was active in other groups including the Oregon Natural Resources Council (now Oregon Wild), the Board of the Oregon Environmental Council, and Friends of the Columbia Gorge and was a charter member of 1000 Friends of Oregon. She actively lobbied to have the Columbia Gorge Scenic Area Act passed and was appointed by then-governor of Oregon Bob Straub to serve on the Gorge Commission. She felt a need for still more involvement by citizens in the protection of Mount Hood and founded Friends of Mount Hood and devoted 30 years to working with the Forest Service and Oregon Congressional delegation to set aside more land for wilderness and protect wetlands, mountain meadows and other special places from development. In 2002 she was awarded Honorary Membership in the Mazamas for her tireless efforts in protecting Mount Hood. In 2005 she was recognized by Catlin Gable School with their Distinguished Alumni Award on the occasion of her 70th class reunion.
Kate was predeceased by her parents and sisters Sally Moore and Betty Walker, as well as her husband, Jerry, and daughter-in-law, Susan. She is survived by her four sons: Steve, of Portland (Lucinda Parker), Timothy, of Beaverton (Sharon), Kermit, of Portland (Maria Hein), and Mike, of Parkdale; seven grandchildren, five great-grandchildren, five nieces and nephews and numerous great-nieces and nephews.
A memorial service will be held at 2 p.m. Dec 13 at the Gorge Room at the Best Western Hood River Inn, 1108 E. Marina Dr., Hood River, OR 97031.
Remembrances are suggested to Friends of Mount Hood, P.O. Box 3098, Clackamas, OR 97015.

Condolences are being received online.