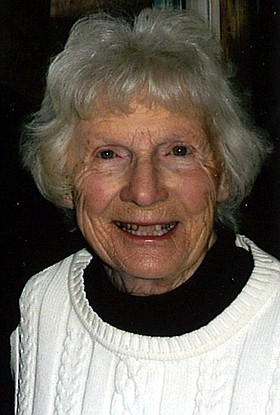 Nadene Janes
March 15, 1924 - November 23, 2015
Nadene Janes passed away Nov. 23, 2015, into the presence of the Lord and Savior surrounded by family. Nadene was born March 15, 1924, in Fort Madison, Iowa, to Stanley and Margaret DeRosear.
At age 4 she moved to Hood River, Ore. It was there that she started the first grade. After her freshman year in high school she moved to White Salmon, Wash. That is where she met her future husband and best friend, Robert (Bob) Janes.
Mom was the cheerleader and Bob was the football player. It was a classic high school romance. They were married Aug. 15, 1942, a marriage that lasted over 69 years until Bob's death in 2012.
In her pre-high school years Nadene was a ballet and tap dancer and traveled around the Mid-Columbia area for her performances. She also played the piano.
Bob and Nadene loved to camp, hike and spend the winters skiing; the outdoors was their second home. Her family was most important to her and she loved each one equally and in a special way.
She is survived by her children: Greg and wife Marsha, Denise Doney, and Gale Williams and her husband Steve; grandchildren Jake Williams and wife Becky, Chris Janes and wife Allison, Stephanie and husband Joseph, and Todd and wife Jen; and six great-grandchildren and many nieces and nephews.
The family is having a private memorial service.