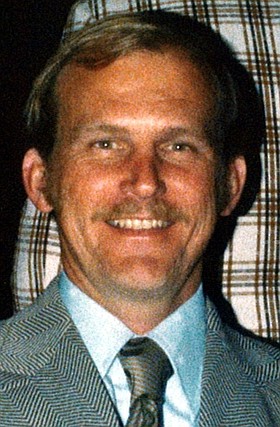 Clarence "Larry" Gustave Hoffman Jr.
November 23, 1942 - September 28, 2015
In remembrance of Larry (Clarence Gustave) Hoffmann Jr., born Nov. 23, 1942; died Sept. 28, 2015:
Larry married Carol Meeks on March 21, 1970; it was the day of their first date and the first day of spring.
The 45-or-more-year journey began in the late 1960s. Larry at that time was working as a California Highway patrolman and was handling an accident on the Los Angeles freeway. Just as he was finishing up Carol and her friend Sonna came upon the accident and one of the trucks changed lanes in front of them and they collided right in front of Larry. Now he had a second accident. Larry said he was love-struck and followed her to the hospital and instructed another friend not to ask her if she had on her seat belt or they would hear from him; boy have times changed, you'd better buckle up. Sometime later they had to take the case to court and Larry was to be a witness for her accident.
He happened to be on the fourth floor with another highway patrolman and as he looked out the window saw a young lady and told his friend, "I'm leaving here with her"; little did he know she was Carol, the same one who he was testifying for. They went for coffee and he asked her to lunch later so he could finish his reports. She was so excited she headed straight home to call her friend Sonna who was in the accident with her and almost showed up too late for the lunch. He was just leaving and had thought he got stood up. In between the next date he ran into Sonna and found out she had actually broke a bone in her leg and had been walking on it for a couple of months.
He called Carol for another date and it was the start of one of the most wonderful times of her life.
After receiving the settlement they decided to transfer to the Santa Barbara County office and bought their first home in Goleta, Calif., and for something like $22,000; wow. After arriving Carol applied at the Santa Barbara County School District. A couple of days later Larry asked if she applied at the school district and she said yes; he said, "Well, I don't remember but I just gave the secretary a ticket"; she was Hope Goetz but she said Carol got the job and they all thought that was such a coincidence. Hope and her husband Dale became one of their closest friends and Dale was on the Santa Barbara Fire Department at the time.
Carol and Larry became foster parents while in Goleta to a number of children and 1-year-old Jennifer Bowers and one was Hope's niece Julie Cox, along with others. They were aunt and uncle to Hope and Dale's three children: Ann, Kim and Little Dale. Young Dale was in Afghanistan when he was killed with four other servicemen and the first chaplain to die in battle since Vietnam. He was a great loss.
In the mid-1970s the Goetzes decided to come home to where they were born in Parkdale, Ore. It didn't take Larry and Carol long to follow them there. Larry came home one day and said, "How about if I quit the patrol?" Carol said when and he said today. She said "You mean today, this day, over and over today?" So that is what they did; sold their house and bought a 40-acre orchard in Parkdale and Hope and Dale had Goetz Market right across the street. My, oh my, such good times; Dale was the self-appointed sheriff and Larry was his deputy, and they took care of business too.
Not long after buying the orchard they purchased Parkdale Chevron from I believe it was Pat McFarland and Carol's dad came in the 1980s as a partner in the business. Many times Carol would try and think of ways to get better heat in there as they had some very cold winters and she hated him working in such cold. Later on they decided to build their own shop, Larry's Equipment Repair, and had it until early 2000s. They both worked side by side, Carol doing the parts runs, banking, bookkeeping, pumping gas or whatever necessary. You become very close to all the people in the valley doing business that many years and being married nearly 33 years.
Thank you to all the orchardists -- and it was so many -- Satos, Benjamins, Donnellys, Laurances, Routsons, just about every orchard in the Parkdale and surrounding valley. There are all the auto parts stores, E & L, Leonard Hay, his wife and his sons, Keith and Kevin (they were just youngsters then); NAPA auto parts, John Cochran and all his salesmen, every one of them I give so much thanks for all your patronage over all these years. All the customers that came to our shop and Larry was so fair and sometimes didn't even charge as much as he could, doing calls to the orchards, etc., even to the Dee area at times.
Thank you and I know he was so appreciated by every one of you. He was one of the best mechanics this valley has had, and he was the best thing that I had in my life.
He loved all my nieces and nephews, with a close relationship to Alexis, Dominique and Hailee Borrego and their parents, Tina and Michael. They were attached at our hips during their youth. We took our nephew David camping with us so often over the years. Larry really liked it when I hunted with him he said he always got lucky. I just liked doing whatever he liked doing. It could go on and on but he had many relationships over all these years and every one of them are going to deeply miss them, every single one. The Goetz family will miss him tremendously and there are so many that I could name.
There will be a time of remembrance on Saturday, Oct. 17, 2 p.m. at the Covenant Christian Church, 455 Frankton Road, Hood River. I would like to personally thank everyone who was a part of our journey in Parkdale and over all these years.
I'm so thankful I was with him the best years of his life and for all the recent visits we had prior to his passing.