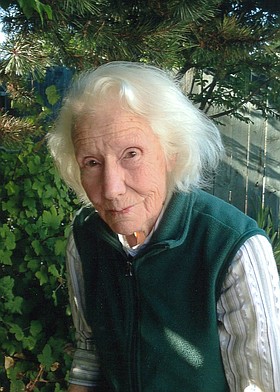 Maria "Mary" Floria Hurtt
July 2, 1918 - October 5, 2015
Maria Floria Panciera Hurtt (Mary) was born July 2, 1918, in Los Angeles, Calif., child of opera singers Eva Vergara and Alejandro Panciera of Guadalajara, Mexico, who had fled to the United States to escape the Mexican civil war. Her father's death soon after the family's arrival left them destitute, and Mary found herself by turns in foster care, convents and even in juvenile detention. Yet despite her rough beginnings, Mary developed such deep grace and kindness that everyone who knew her felt blessed.
As a teenager, Mary worked as a house servant, studied dance, and learned to sew. With Spanish spoken at home and English at school, Mary was bilingual from a very early age, a skill which served her well all her life.
Mary became an accomplished seamstress and demonstrated high mechanical aptitude. At the beginning of World War II she worked for Lockheed installing oxygen systems in B-17 bombers. She enlisted in the Army, where she qualified as a photographer, marksman, drummer and truck driver. Her stunning good looks and disarming poise made her a popular jeep drive for the top brass.
While working as an audio-visual technician at Edgewood Arsenal in Maryland, Mary met Henry Hurtt, a romantic, artistic, handsome sergeant who shared her interest in music, photography, and ice cream, and had a knack for writing love songs. The two were smitten by each other and married in 1945. They were transferred from base to base over the next 25 years, following Henry's career as a technical illustrator. Mary worked as a mother, homemaker, translator, industrial seamstress, hospital scheduler and Spanish teacher.
Mary and Henry traveled after retirement, eventually settling in a seniors community in Harlingen, Texas, where they had the time of their lives sharing talents and interests with fellow retirees, teaching, and traveling. As Henry's health began to decline they went to live in Hood River, Ore., to be near daughter Eva and son-in-law Scott Bryant. Henry passed way in 2007, and Mary moved in with Eva in 2013, in whose home she died peacefully at age 97 on Oct. 5, 2015.
Mary is preceded in death by sister Elsie and brothers Salvador, Alessio, Mario and Renato.
She is survived by son Howard, daughters Jerry Ham and Eva Bryant, seven grandchildren, and six great-grandchildren.
Private interment with military honors was held at Pine Grove Cemetery. A celebration of Mary's life will be held in November at a time and venue to be announced.
Arrangements are under the direction of Anderson's Tribute Center (Funerals, Receptions, Cremations), 1401 Belmont Ave., Hood River, OR 97031; 541-386-1000. Please visit andersonstributecenter.com to leave a note of condolence for family.

Condolences are being received online.