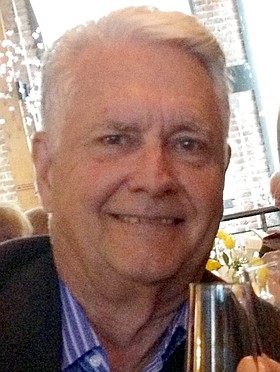 Paul Anthony Dezurick
May 2, 1942 - October 10, 2015
Paul Anthony Dezurick passed away Saturday, Oct. 10, 2015, at Providence Hood River Memorial Hospital. Paul was born May 2, 1942, in Portland, Ore., to Clarence "Bud" Dezurick and Dena Dezurick (Doneff).
Paul moved with his parents and brother to San Francisco in 1957. The Bay Area became his home. At the age of 16 he met Alexandra Elena Christo. They became friends, then best friends and she became the love of his life. Paul and Alexandra were married on June 16, 1963. They would spend the next 52 years as partners and teammates.
On March 26, 1964, Paul and Alexandra became parents for the first time when Bradford Lawrence Dezurick was born. Jeffrey Paul Dezurick was born Feb. 21, 1967, and on Feb. 11, 1994, Paul and family were truly blessed as Marielle Sophia Dezurick was born. Paul's family meant everything to him. To his family, Paul was a hero.
In 1976, Paul and family moved across the San Francisco Bay to North Berkeley, which then became home for the next 28 years.
Paul was a graduate of St. Ignatius High School, the University of San Francisco and the University of San Francisco School of Law.
Paul was a gifted attorney and passionate advocate who spent the majority of his professional career as a partner and litigator in the San Francisco law firm of Graham and James.
In the early 1990s Paul fulfilled a dream of opening a law practice with his eldest son Brad in Emeryville, Calif.
In 2004, while easing into retirement, Paul returned to Oregon with family and relocated to Hood River. An avid golfer, Paul immediately fell in love with the course and scenery at Indian Creek. The friendships that developed were special and enriching to him. He loved playing golf with his son Jeff and enjoyed passing the game on to his kids. Paul played varsity golf at the University of San Francisco. He was known to hit the ball consistently well off the tee. He was creative with his shot making around the greens. His putting, by his own admission, was atrocious. His amassed collection of 83 putters is up for auction on eBay, although according to Paul, "None of them work."
Paul's humor was often evident and frequently acted as a social ice breaker to put people at ease. He had a gift for making people around him laugh, making them comfortable, and most importantly he was able to laugh at himself.
Paul also loved music and the fact that he was able to share that passion and his music collection with his daughter Marielle was very special to both of them.
Paul loved good food as well. The worldwide culinary journey that he and Alexandra shared was special. The skill set he possessed in the kitchen, and the appreciation he had for a well-prepared meal greatly enhanced his life and by extension his family's lives as well.
Paul was also a well-versed sports fan. He became a San Francisco Giants fan in 1958 as he sold peanuts and other concessions in the stands at Seals Stadium. He did the same at Kezar Stadium for the San Francisco 49ers. His passion for the 49ers started early and only grew over time. Paul was able to share with sons Brad and Jeff, two decades of incredible 49ers memories together from 1979-1997 at Candlestick Park.
Paul's zest for life, his laughter, his passion for golf, good food, music, and sports all paled in comparison to the adoration he had and continuously demonstrated for his best friend and wife Alexandra. Their commitment to each other, their dedication to family, and their love for one another were a tremendous example of a good old fashion love story. Their feelings were described by the phrase, "Happiness is being married to your best friend." They were truly the best of friends for more than five decades.
In the end, it became very clear that Paul's life's work was his commitment to his family. To help prepare his beautiful bride Alexandra and their three children, through consistent demonstration of problem solving or situation handling, preparing each of them to move forward in a positive way and successfully deal with any and every speed bump that life presents. Paul's grandson Sean perhaps said it best, "He was a pleasure to be around and his sarcasm and humor made a pleasant impact on everyone he knew. It's hard to fault a guy who made everyone's day better, even when he was not in a good place himself." Paul A. Dezurick, a job well done. Now please feel free to rest in peace. We love you so much. Your daily presence will be missed but your spirit will be with us every day.
Paul is survived by his wife Alexandra, son Jeffrey Paul, and daughter Marielle Sophia and was also blessed with seven grandchildren: Miranda, Meghan, Brian, Georgia, Sean, Christopher and Eva. Paul is also survived by his brother Vance Dezurick of San Francisco.
Paul is preceded in death by his parents Clarence and Dena as well as his eldest son, Brad.
Services were held at the Greek Orthodox Holy Trinity Church in Portland on Tuesday, Oct. 13.
A celebration of Paul's life is currently being planned and expected to happen in late October at Indian Creek Golf Course.
Arrangements are under the direction of Anderson's Tribute Center (Funerals, Receptions, Cremations), 1401 Belmont Ave., Hood River, OR 97031; 541-386-1000. Please visit andersonstributecenter.com to leave a note of condolence for family.

Condolences are being received online.