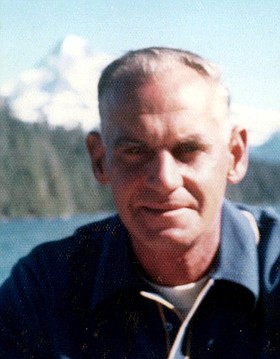 Ira "Lee" Lee Gibbons
March 7, 1930 - July 21, 2015
Ira Lee Gibbons, the second of six children born to Orval and Cora Drennan Gibbons, was born in Picher, Ottawa County, Okla., on March 7, 1930. He passed away at his home in Jakarta, Indonesia, on July 21, 2015.
The family moved to Mosier, Ore., in June of 1942 and Lee attended Mosier School through his graduation in May of 1947. While in school, he played basketball for the Tigers and later refereed basketball games throughout the Mid- Columbia. With five children, the Gibbons house always had friends and relatives coming and going, making fudge, telling ghost stories on the lawn, making snow ice cream, rolling up the living room rug to dance and long winter evenings spent playing cards and Monopoly, listening to the radio, especially the Grand Ole Opry. Lee always loved country music.
There were family rides to Lost Lake, Fir Mountain, Long Prairie and many times the family would go to one of the job sites where Orval worked. Lee had purchased an Indian motorcycle and he often rode it in the hills behind Mosier, taking many people for rides, even his mom who declared it was fun but once was enough! The Gibbons home was the gathering place on holidays and always included "Granny" Drennan and Uncle Ralph and Uncle Jim. Another uncle, Pete, and his family lived close by also.
Hunting in the Mosier hills was always a family affair as the sons came home to try to catch a deer with their dad. When son Randy was old enough he became part of the hunting crew. There was early morning coffee drinking, a hearty breakfast, lunches to pack and off they went only to come home tired, most times with a deer, and full of stories about the day. Later on, Lee took up fishing and spent solitary hours down on the river.
On Dec. 17, 1949, Lee married Beverly June Boyer of Parkdale and the young couple settled in Mosier. Lee worked on construction jobs on Interstate 84, The Dalles Dam and other projects with his dad. Lee and Bev's first child, Randall Lee, was born on Sept. 25, 1950, followed by Ronda Lynn in August of 1953 and Kyra Jean in July of 1955. In 1956, Lee hurt his back in an industrial accident on the Memaloose Grade and was not able to continue construction work. The State of Oregon helped him get a new start, the family moved to Portland and Lee became a student at Portland State University where he graduated in 1961 with a degree in business/accounting. He worked for Kerr Grain and George Black and Associates.
In 1967, while working for Kerr, the company sent some of their employees on a U.S. Aid project to Thailand. Lee took his family and that trip began his lifelong love of living in Asia. That did not suit his wife's family plans and Lee and Bev divorced after 25 years of marriage. Bev passed away in July of 1985 of cancer.
Over the years, Lee worked in Thailand, Viet Nam, Sumatra, Singapore and retired from NYNEX as the chief financial officer in Jakarta. When he was in Vietnam, he met Ngoc Nguyen and they spent 10 years together before parting company. He and his wife, Christine, who were married on Aug. 13, 1994, built a beautiful home in Jakarta and Lee was pleased to have his daughters, son-in-law and grandson be able to visit. He was thrilled and excited when his daughters, Ronda and Kyra, flew to Jakarta to surprise him at his 75th birthday party. He entertained them royally, including a trip to Bali. He also made it a point to come "home" in the summer for a month or so. His brother Dean also came to be with the family during Lee's vacation. He loved the river, getting hot dogs at Multnomah Falls, being close to his daughters and their families, going for rides and visiting his sister and her family at their Mosier place or gathering in brother Tommy's backyard for a barbecue.
Golf became a passion for Lee. He and brother Dean played many courses together. Lee was happiest when he and his daughter Ronda and her husband Mike also played together. He introduced his wife, Christine, to the sport and she became an avid golfer as well. At times, the only non-golfer, Kyra, would go along and drive the cart. In Jakarta, Lee belonged to Riverside Country Club and played on a course designed by Greg Norman.
In 2009, Lee suffered a debilitating stroke and was unable to walk or talk although he could say a few key phrases and he could still sing. On birthdays, there would always be a phone call from Indonesia with him painstakingly singing Happy Birthday to the celebrant, coached by Christine.
Lee was preceded in death by his grandparents, parents, all of his aunts and uncles, his son Randy, his daughter Ronda, his infant grandson, Jeremy, his brothers Tommy, Dean and infant brother Jerry Wayne Gibbons, his sister Juanita Gibbons Smith and his niece Kimmie Smith, his brother-in-law Don Smith and sister in law Roe Gibbons.
Survivors include Christine and her family in Indonesia; daughter, Kyra Gibbons, her daughters Kaitlyn and Sunshine and Sunshine's son, Tyler; his son-in-law Michael Carroll, and Mike and Ronda's sons Justin and Sean, Justin's wife Jamie, their son Jordan and daughter Kelsie and her daughter Brooklyn, grandson Christopher Lee and granddaughter, Debra. He is also survived by his sister and brother-in-law, Glenna and Ed McCargar of Mosier. Nieces and nephews surviving are: Tom Gibbons of Hood River, Patrick Gibbons of Shreveport, La., TJ Gibbons of Tigard, Michael Gibbons of Portland, Darla Goe of Odell, Kathleen Rios of Bend and Laureen Ortiz of Oklahoma and their father, Harold Captain of The Dalles. Robin Smith Allen of Parkdale, Jody Smith Lamoreaux of Hood River, Heather Smith Muma of Odell, Jeff Smith of Irving, Texas, Matt Smith of South Beach, Ore., Jason Smith of The Dalles, Ore., Kelly McCargar of Mosier, and Morgan McCargar of Pendleton, Ore., a plethora of great-nieces and nephews and great-greats! He has many Gibbons cousins surviving throughout the country. Jim Drennan, of Odell, is his only surviving Drennan cousin.
A service has been held in Jakarta in the same church where Lee and Christine were married in August of 1994 and some of his ashes have been sprinkled in the Indian Ocean and, according to Indonesian customs, a celebration of his life was held 40 days after his death. He had made it clear to his family that when the time came, he wanted to come "home" and his cremains have arrived here safely. There will be a service at the Mosier Cemetery on Saturday, Oct. 24, at 11:30 a.m. with a reception to follow at the Mosier Grange.