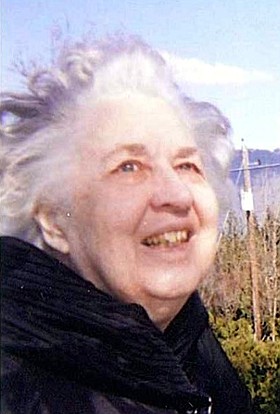 Mary Elizabeth Odem
November 11, 1920 - August 21, 2015
Mary Elizabeth Odem of Hood River, Ore., passed away with her family at her side on Aug. 21, 2015. Mary was born on Nov. 11, 1920, the oldest child of James Francis Odem and Eda Brauer Odem. She was valedictorian of the Sinton, Texas, High School class of 1937 and went on to be a member of Phi Beta Kappa at University of Texas, graduating summa cum laude in 1946. She received her Master of Education degree in 1958 from Our Lady of the Lake College in San Antonio, Texas.
Mary was a small-town girl from south Texas who, after graduating from UT, traveled to Puerto Rico to teach, and then worked at Graphite Bronze in the Midwest making tools for the war effort during World War II. She was an excellent horsewoman, became a licensed pilot, and was an accomplished pianist, teaching and inspiring many musicians. Mary's most cherished endeavor was the practice of her Catholic faith, including time spent with the Sisters of the Incarnate Word.
Mary moved to Hood River, Ore., in 2004 to be near family and settled at Parkhurst House, developing many special friends and actively supporting the arts at Hood River Valley High School. For the last five years, she was well-loved and cared for by the many amazing caregivers at Brookside Manor, which was her special home. She would often say "I'm so happy to be living in this wonderful place."
Mary is survived by her sisters, Joan Odem Barrett and Grace Odem Doyle. She was well-loved by numerous nieces and nephews: John Michael Barrett Jr. (Debra), John Michael Barrett III (Megan), great nephew Jack Barrett, David Barrett (Miranda) and James Barrett; Ann Barrett Oldfather (Mike Hasken), Michael Oldfather, Michael Hasken Jr. (Lauren) and Eleanor Hasken; Jamie Barrett; Brian Barrett (Kim), Brooke Barrett Shimkets (Shawn), Brian Patrick, Chris and Abby Barrett; Becki Barrett Rawson (Pat), Danny, Sean, Katie and Claire Rawson; Nancy Doyle, Frances Doyle Grist (Steve), Mason, Mary Wilson and Elizabeth Grist; Patti Doyle Garrett (David), Will, Caroline, and Meredith Searight; James Odem, Jamie and Jonathan Odem; David Odem and Brittany Odem.
She was pre-deceased by her parents, Eda Brauer Odem and James Francis Odem; her brother, Dave Odem; and her brothers-in-law, Admiral Jack Barrett and Richard Doyle.
Mary brought joy to many friends and family through her beautiful piano playing. She was known and loved for her contagious sense of humor and ability to tell a good joke. She loved to say that she was a "peace baby" born on Armistice Day, Nov. 11, 1920.
Everyone who knew Mary encountered a woman who was fiery, sassy, hilarious, musical, proud, intelligent, loving and holy. She would often start the day with a song, loved speaking Spanish, and would entertain any visitors with impromptu piano concerts. She was known for bursting into song in the middle of a conversation. Her humor was legendary and her faith deep. She will forever be remembered with fondness and love.
Her family is deeply grateful for all the friends and caregivers in her life who treated her with compassion and respect and who filled her days with joy.
Arrangements are under the direction of Anderson's Tribute Center (Funerals • Receptions • Cremations), 1401 Belmont Ave., Hood River, OR 97031; 541-386-1000. Please visit andersonstributecenter.com to leave a note of condolence for family.

Condolences are being received online.