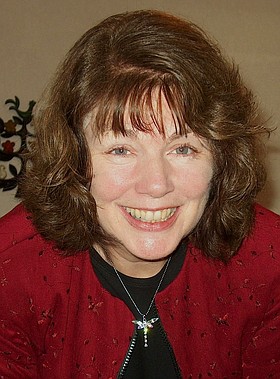 Nancy Joanne Steele
July 5, 1947 - September 9, 2015
Nancy Joanne Ward Steele left this earthly home on Wednesday, Sept. 9, 2015, to join her father, brother, granddaughter and other family who have died.
She was born in Alaska in 1947 to her loving parents, Mary and Maynard Ward. As a young child in California, her parents decided the best thing for their family was to leave the city and move to the farming community of Odell where Nancy's mother was born. With her siblings Ron, John and Barbara, Nancy attended Odell Grade School, Mid Valley Middle school and Wy'east High School, graduating in 1965.
She married Colonel Collie and they brought Russell and Annette into this world. When the children were in preschool, they moved to Alaska where Nancy worked for the State of Alaska. They returned to their home at Dee and Nancy volunteered at the Parkdale Grade school and worked part-time at the Hood River News. She later studied family law and was employed with a local attorney.
After the couple's divorce, Nancy made a life-changing decision and joined The Church of Jesus Christ of Latter-day Saints. Her baptism and membership in the church has been the happiest for her. Three years later, she met her eternal companion, Gary Steele. They were married in the House of the Lord at Seattle, Wash.
Nancy worked for United Telephone (Sprint) in Hood River and Redmond, Ore. She was a secretary for a magazine publishing company in Tigard, Ore., and retired as an office manager for the Community Development Department of Hood River County.
Her volunteer work included over eight years in the 4-H program, secretary for Aldridge Ditch Co., teaching in the Primary and Young Women's program, leadership positions in the Relief Society women's program and family history consultant.
She would tell you that her biggest and most precious accomplishments were the roles of daughter, wife, mother, grandmother and great-grandmother. Her hero is Jesus Christ, the savior of souls.
Nancy was continually learning new things. She used the same method as used with employment and scripture study to learn more about home making and her hobbies. One step at a time, line upon line, here a little, there a little. From 4-H sewing she advanced to more complicated projects, like men's trousers and jackets and bringing old furniture back to life with new upholstery. Like her forebears she knitted, crocheted and was into weaving, rug hooking, and making soap and lotions. She and her friends traded techniques, recipes and patterns. They held classes to teach others. She gave classes to men and women on the proper techniques of home canning. The guys enjoyed the fish and wild game canning classes.
Miniatures intrigued her since she was very little. She created tiny décor for doll houses and room boxes. Many of her artistic creations are very detailed. Her furniture pieces are life-like, with working drawers and caster bases. She didn't hesitate to help with home repairs, whether it was reroofing or major remodeling. She learned to cut, design and install ceramic tiles. She made molds for cement benches or garden décor. She had her own tools and depended heavily on her chop saw, for mitering and building bird houses.
Preceding her in death were her granddaughters, Emma Collie and Brianna Steele, her father, Maynard Ward and her brother, Ron Ward.
She is survived by her husband, Gary Steele; mother, Mary Ward; children Russell and Annette Collie; her stepchildren, Debbie Tresner (Dave), David Steele, Denice Steele and Dennis Steele (Deanne); grandchildren, Taylor Collie, Ella Collie, Trenton Collie, Nicole Herman, Jessica Herman, Charity McOmie (Dan), Karl Tresner (Ashley), Crystal Behunin (Donovan), Chantel Grossnickle, Kyleigh Steele, Scott Steele and Brooke Steele; great-grandchildren, Levi Collie, Connor Behunin, Adalyn Behunin, Lilly Behurin, Trey Tresner, Harper Tresner, Hayden McComie and Aria McComie; her aunt Neva Allen and many cousins, nieces and nephews.
Services are planned for Friday, Sept. 18, at the Hood River Church of Jesus Christ of Latter-day Saints, 1825 May St., with viewing starting at 11:30 a.m. and service at 1 p.m.; graveside rites will follow at Idlewilde Cemetery.
Arrangements are under the direction of Anderson's Tribute Center (Funerals • Receptions • Cremations), 1401 Belmont Ave., Hood River, OR 97031; 541-386-1000. Please visit andersonstributecenter.com to leave a note of condolence for family.

Condolences are being received online.