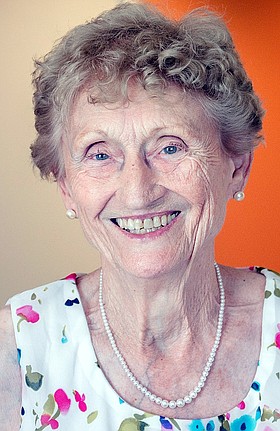 Phyllis Powell
October 6, 1928 - September 5, 2015
Phyllis Niedzweskie Larsen Powell was born Oct. 6, 1928, to Michael and Victoria Niedzweskie in Duncon, Neb., the eldest of five children. Phyllis and her family moved to Hood River, Ore., when she was about 12 years of age. She attended Odell High School. Then at age 16 she moved to Seattle, Wash.
She worked as a welder on the navy ships in World War II, where she met and married Harold Larsen. After the war they considered Hood River their home town. Phyllis accomplished getting her GED, and worked in the Hood River cannery, and studied to be a hair stylist, but did not pursue. While raising their two children they explored many travels due to Harold's work.
In 1957 with Harold, daughter Vickie and son Mike they lived in Peru for almost three years and had opportunities to visit many parts of South America, including the Inca ruins. They returned to Hood River in 1960, purchasing a cattle and orchard ranch.
Harold and Phyllis divorced in 1963. She met and married Milton (Buck) Powell in 1966. They moved to Portland, Ore., where they raised Buck's two youngest out of three children. In 1991 with husband Buck they started exploring adventurous places to live by RV'ing the western United States. She has many friends with whom she has kept in touch throughout her adventures.
Phyllis' life was full of family and friends which were her number one priority. She loved her (two) children, (three) stepchildren, (two) sisters and a brother, (11) grandchildren, (21) great-grandchildren, (7) great-great-grandchildren, her son-in-law Treg, his (three) brothers and their mother and friend Ruth. Phyllis enjoyed taking care of her family, reading, gardening and traveling. As a strong, independent and proud woman with a very kind heart, she stood tall and happy.
Phyllis left this world on Sept. 5, 2015, to join all the people she loved who had gone before her. She was preceded in death by husband Milton (Buck) Powell in 2001, son Michael Joseph Larsen in 1976, (two) great-grandchildren, and sister Patricia Mitchell.
Phyllis is survived by her daughter, Mary Victoria Larsen Fishbach, son-in-law Treg; stepdaughter Kathy Boyle (Matt); stepsons Terry Powell and Jeff Powell; sisters Roberta Stearns (Richard) and Lois (Holstie) Hobbs; brother Rodger Holstie (Janet); and numerous nieces and nephews of multiple generations, whom she loved very much.
Friends are invited to greet with family during a time of viewing Saturday, Sept. 12, from 9 a.m. to noon at Anderson's Tribute Center, and her graveside service will follow at 1 p.m. at Pine Grove Butte Cemetery, 2687 Van Horn Drive, Hood River. Father Ron Maag of St. Mary's Catholic Church will officiate.
Following the services there will be a potluck gathering to share and honor Phyllis' life: At Rodger and Janet Holstie's home, 1090 Highway 35, Hood River. In lieu of flowers, the family requests donations be made in Phyllis Powell's name to the Wilshire Hospice care unit at 277 South St., Ste. R, San Luis Obispo, CA 93401; 805-702-8608 or any local hospice you prefer.
Arrangements are under the direction of Anderson's Tribute Center (Funerals • Receptions • Cremations), 1401 Belmont Ave., Hood River, OR 97031; 541-386-1000. Please visit andersonstributecenter.com to leave a note of condolence for family.

Condolences are being received online.