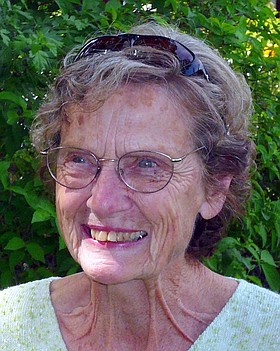 Ruth W. Arnold
January 12, 1929 - September 4, 2015
Ruth W. Arnold, 86, peacefully passed away after a full and vibrant life on Sept. 4, 2015, in Kennewick, Wash. She was born Ellen Ruth Wilson on Jan. 12, 1929, to Robert Henry Wilson and Gracie Irene (Hutchinson) in Forgan, Okla.
Times were tough back then in the Dust Bowl and Depression. In 1933 the family moved to Seattle, Wash., where there was employment and an opportunity to make a living. The family grew to include Elda Rose, Carl Curtis and Carol Darlene.
In March of 1937, two days after Carol was born, their father was killed in a construction accident, leaving the family financially destitute. Ruth ended up filling the role of mother to her younger siblings due to her mother's fragile health.
Ruth attended John Muir Elementary in Seattle through seventh grade when she ran off with the grocery money to marry Gordon Arnold whom she had known for about a year. Gordon was serving in the Army-Air Corp and was stationed in Hobbs, N.M. She was 14 years old. After the war, the couple moved to Hood River, Ore., where the Arnold Family had located after their move from North Dakota in 1935. Six years after their marriage, Gordon and Ruth started their family. Joyce arrived first, then Bob and later, Marie.
Ruth worked as a substitute rural mail carrier for 23 years, clerked at the Hood River County Court House, was a house cleaner and caregiver for people in need as well as assisted in a catering service for her dear friend Mookee Taft. (The stories those two have shared!) She was also extremely active in Hazel Rebekah Lodge 156 (Odell), St. Mark's Episcopal Church (Hood River) and was constantly looking for where and how she could be of service to others. Ruth's work ethic was unsurpassed.
Ruth didn't know how to relax - she was always on the move. She enjoyed gardening and loved dancing but more than anything, Ruth enjoyed raising and caring for her family. Arnold Family gatherings were always wonderful, crazy times and Ruth could always be found working hard to do whatever she could to make them happen. She delighted in play, including waterskiing (when the wind wasn't blowing) and times on the infamous Arnold raft and trampoline. No Halloween costume was impossible. As her family grew, she went out of her way to be the best Grandma in the world.
Ruth and Gordon were married for 45 years when Gordon passed away in December 1988. After two years of widowhood she began new adventures. Ruth started dancing (which had been a lifelong dream of hers) and met a new life partner, John Johnk. After several years, they moved to Pasco, Wash. Ruth and John lived, loved and danced together for nearly 20 years. Finally, dementia and health issues separated them.
John passed away in 2014. Ruth was also preceded in death by her sister Carol and brother Carl.
She is survived by her sister Rose of Los Angeles; her two daughters Joyce (Ken) Devries of Goldendale, Wash., and Ruth Marie Arnold of Lacey, Wash.; her son Robert (Sherry) Arnold of Pasco, Wash.; five grandchildren and numerous great-grandchildren, nieces and nephews.
Services will be held at Kennewick First United Methodist Church on Saturday, Sept. 26, at 10:30 a.m. in Kennewick, Wash., and at Anderson's Tribute Center in Hood River, Ore., on Saturday, Oct. 3, at 11 a.m. Condolences may be expressed online at andersonstributecenter.com.
Memorials may be made to The Chaplaincy, 1480 Fowler St., Richland, WA 99352 or Alzheimer's Association, 225 N. Michigan Ave., Floor 17, Chicago, IL 60601.

Condolences are being received online.