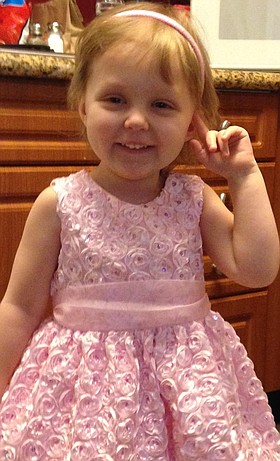 Lila May Schow
July 31, 2010 - September 12, 2015
On Saturday, Sept. 12, 2015, Lila May Schow passed away at her home in Hood River, surrounded by her family. She was born July 31, 2010, in Portland, Ore., and moved to Hood River four years ago.
Lila May was a very smart, very loving and fiercely independent little girl who loved to dance and pick flowers. During her short life, Lila May impacted many lives with her strong, warrior spirit.
She will be deeply missed by her mother and stepfather, Heidi and Blake Hall, of Hood River; father Ryan Schow, of Beaverton, Ore.; sister Mia Hall, of Hood River; and grandparents Kenneth and Ellen Smith, of Gold Hill, Ore., Marcene Forney, of Jacksonville, Ore., Peggy Hall, of Gresham, Ore., Boyd and Lois Schow, of Taylorsville, Utah, and Mari Fuellenbach, of South Jordan, Utah.
A celebration of Lila May's life will be held at the Hood River Middle School Auditorium on Wednesday, Sept. 16, at 6 p.m. To send condolences and memories to the family, please visit gardnerfh.com.