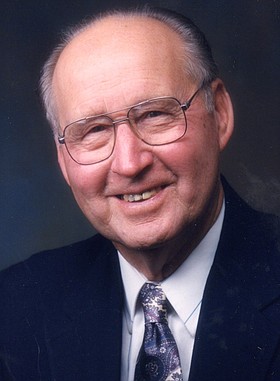 Arne Elmer Udelius
December 22, 1917 - September 16, 2015
Arne Elmer Udelius passed away Wednesday, Sept. 16, 2015, at Parkhurst Place in Hood River, Ore. Arne was born in Odell, Ore., Dec. 22, 1917, in a family home located on Ehrck Hill Drive. He was the third child [sisters Linda (Hall) and Julia (Kopacz)] born to Michael A. and Hilda (Moilanen) Udelius.
Arne spent all but two of his 97 years living in the Odell area and graduated from Odell High School. He was active in the Odell Lions and Oregon State Lions Sight & Hearing, the Odell Fire Department, AGA (Apples Growers Association), Diamond Fruit, the Hood River Elks, was an early member of the Crag Rats, a ski instructor during the early years of Cooper Spur, and was a special deputy for the Hood River Sheriff's Office for many years.
Arne's love of flying began early in his life and was his special way of relaxing. He had special pride in his Finnish heritage and was the third generation to farm the Udelius Orchards. He loved to tell a good story, and especially enjoyed hearing and telling "Lena and Ole" jokes.
Arne was preceded in death by his wife, Fern (Buchanan), in 1985 and his son, Michael R. (Mike), in 2014.
Arne is survived by his daughter, Joan (Paul) Batton, of Olympia, Wash.; granddaughter Kibby (Ryan) Aslakson, of Bellevue, Wash.; daughter-in-law Elaine Udelius, of Odell; granddaughter Wendy (Randy) Achziger, of Odell; and grandson Herb (Tammy) Good, of Auburn, Wash.; and eight great-grandchildren, several nephews and nieces, cousin Linda LaBounty, of Hood River, and his special friend, Athalie Lage, of Hood River.
A special thanks to Parkhurst Place, Down Manor, Providence Home Health Care, Heart of Hospice and Helping Hands. The family requests that memorials may go to: WAAAM (Western Antique Aeroplane and Automobile Museum) or to the Odell Lions.
Arne's family will have a private inurnment. A celebration of life will be announced at a later date.
Family would like to thank Dr. Sjoblom for her care of Arne.
Arrangements under the direction of Anderson's Tribute Center (Funerals • Receptions • Cremations) 1401 Belmont Ave., Hood River, OR 97031; 541-386-1000. Please visit andersonstributecenter.com to leave a note of condolence for family.

Condolences are being received online.