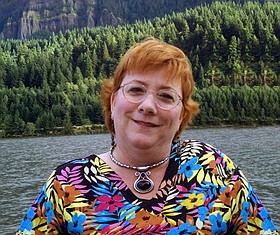 Dixie Lynn Parker
June 27, 1956 - September 14, 2015
Dixie Lynn Parker, 59, a resident of The Dalles, Ore., died at home Sept. 14, 2015. Dixie was born June 27, 1956, in Gunnison, Colo., the third of three children to William Henry and Mary Louise (Raymon) Beals. She grew up in San Bruno, Calif., until 1969, then lived in Hood River, Ore., from 1969 to 1979. She came to The Dalles in 1979.
Dixie attended the following schools in San Bruno, Calif.: Belle Air from 1962-1965, Decima M. Allen Elementary School from 1965-1967, and Parkside Middle School from 1967-1969. She also attended May Street Elementary School from 1969-1970, and Hood River Valley High School from 1970-1971, in Hood River. She obtained her GED on June 13, 1978. She worked as medical records clerk at NORCOR and was a legal secretary for most of her career.
Dixie was a member of United Church of Christ Congregational, The Dalles; The Dalles Kiwanis Club; The Dalles Country Club and was a former member of Xi Alpha Epsilon sorority.
She served on the board of directors for St. Vincent De Paul and Community Meal in The Dalles for many years. She coordinated the calendar for the groups who served the meals, and served numerous meals as a member of many organizations. She served as past president of the Mid-Columbia Fellowship of Churches for many years, and was actively involved in organizing events associated with Martin Luther King Day. She was a member of The Dalles Area Jaycees for many years. She served as treasurer for The Dalles Art Center and the Mid-Columbia Democratic Women for many years.
She was actively involved with The Warming Place, serving as one of the coordinators who arrange for volunteers to serve. She was also actively involved with the Wasco County Democratic Party, Wasco County Citizens for Human Dignity, and Mid-Columbia PFLAG. She served as the campaign treasurer for elections for Wasco County Circuit Judges Bernie Smith and John Wolf, and Hood River Circuit Court Judge John Olson. In March 2011 she and her husband, Gene Parker, were selected as the Outstanding Philanthropist by the Mid-Columbia Health Foundation.
Her hobbies included playing golf and solving crossword puzzles. She loved animals, including Molly, her favorite dog, and three cats: Bud, Clark and Bean.
Dixie is survived by her husband, Gene Parker, of The Dalles; her son, Rodger Leininger, of Portland, Ore.; her brother, Frank Raymon, of Blanchard, Okla.; her sister, Patricia Flory, of Stevenson, Wash.; her niece, Holly Flory, of Parkdale, Ore., and her cousin, Patricia Evans and her husband, Steve, of Boise, Idaho.
Services will be held on Friday, Oct. 2, at 11 a.m. at Calvary Baptist Church, with Rev. Dr. Deborah J. Allen officiating.
In lieu of flowers, memorial contributions may be made to the United Church of Christ, The Dalles; Home at Last; Smart Reading Program; St. Vincent de Paul; The Dalles Community Meal or Heart of Hospice.