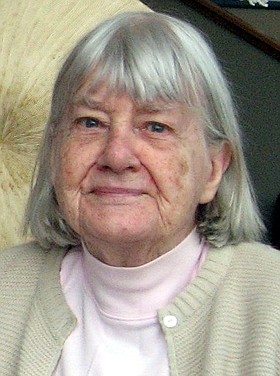 Maybelle Winiferd Warren
July 12, 1919 - September 13, 2015
Maybelle Warren slipped quietly away Sept. 13, 2015, after 96 years of life.
Maybelle Winiferd Sigurdson was born July 12, 1919, in Warrenton, Ore., the second of three daughters to Winnie and Sigurdur. Her dad managed the Warrenton Clam Company in Copalis, Wash. She had the freedom to roam about and those years were among the happiest of her long life. The idyll ended with a move to the big city of Portland to a new home with gas lighting and indoor plumbing!
Maybelle attended Beumont Grade School and graduated from Grant High School in 1936. She was an excellent tennis player and swimmer, attended Fremont Methodist Church and sang in the choir. She was a member of Fidelis, a young adult ghroup, whose members remained friends for life.
After a business college course Maybelle got her first job as a secretary in downtown Portland, commuting by bus and streetcar. She3 made $35 a month. As the war in Europe progressed there was a demand for workers at Swan Island Shipyards. Sig did not allow his daughters to drive his car, but when Maybelle told him about the excellent wages offered, he changed his mind. She promptly drove down and got a job as executive secretary.
Maybelle was a member of the Mazamas hiking and climbing club. She made her way up most of the trails in the Columbia Gorge. She summited Mount Hood, Mount Adams and Mount St. Helens. She was skiing at Timberline on Dec. 7, 1941, when President Roosevelt declared war with Japan. She heard the news over the radio in the Silcox hut, located on the slopes above the lodge. Next summer at the annual Strawberry Picnic she met a handsome young man from Pendleton named Elmer Warren. He was a Portland fireman. Good looking, just tall enough and with a good job, they were married six months later in her parents' home.
During the war, Mayb saved $10,000, quite a nest egg and enough to buy their first two-bedroom home. In 1947 Christina Eileen arrived. Shelley Gail was next, followed by Wendy Kay. Elmer earnestly began building their four-bedroom home on N.E. 50th. When Dale Edward arrived, it was time to move even though the house was far from finished.
In true '50s style, Mom was a full-time homemaker, doing all the things women did in those days. The house on 50th was grand central station for the neighborhood gang. She loved flowers and her garden. Beyond that, social events were strictly family affairs. Vacations were tent camping trips which must have been an ordeal to bundle up four young ones and gear. In those days, considerably more primitive than now. It usually meant a flat tire en route as well.
Decoration Day meant an annual visit to Ocean View Cemetery in Warrenton. Mom took special care to arrange home-grown flowers for the many family members buried there. The Sigurdson and Warren family reunions were annual events.
Mom returned to work with the U.S. Forest Service where she was secretary for the regional forester. There was a memorable helicopter ride to Twisp during fire season. Mom was dressed in an orange jumpsuit.
Elmer built a retirement home in Hood River. Mom was not enthusiastic, but finally made the move. Shelley and Greg's extended family provided social life. Picnics, holidays, birthdays and anniversary celebrations filled the years. Mom was a member of the Odell Garden Club and participated at Fair. She had some remarkable specimens and loved to count her blue ribbons.
Her travels included a trip to Iceland, Hawaii with Shelley and Greg's family, Europe with Christy and Gerd, trips to Bellingham and Mt. Vernon with Wendy and Harry. She visited Alaska and had several cruises.
Her grandsons, Jackson, Alex and Geordie were a source of pride and enjoyment. She lived long enough to have to great-granddaughters, Ella and Madeline.
Her family appreciates the activities, hair styling, therapy, and all the personal care she received from many at the Hood River Care Center. It improved the final months of her life.
Arrangements are under the direction of Anderson's Tribute Center (Funerals, Receptions, Cremations), 1401 Belmont Ave., Hood River, OR 97031; 541-386-1000. Please visit andersonstributecenter.com to leave a note of condolence for family.

Condolences are being received online.