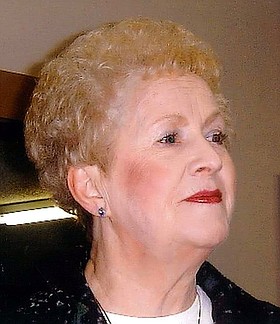 Janiece Gillmouthe
February 20, 1934 - September 16, 2015
Janiece Gillmouthe was born and in raised in Odell, Ore., and lived most of her life there on land her parents purchased in 1925. She was the third of four children born to Eugene and Helene Buckley. She attended school in Odell, graduating in 1952 from the then-new Wy'east High School.
Over her many years in the Hood River Valley, Janiece held various jobs, such as waitressing at Bill & Bob's in Odell, cooking at the Elks, and bartending at the Legion Club. There were times that she found herself working three jobs to support her family.
However, she is most known for her years spent at United Telephone (now, CenturyLink) working in fraud investigation.
Janiece will always be remembered for her compassionate and giving spirit. She was honored with the distinguished Soroptomists' Women Helping Women award in 1982.
Janiece is survived by daughters Jana Arthur and Brenda Bess-Fivian; grandchildren Stephanie Delgado and Nicholas Delgado; brother Bob Buckley (Mary Jane); nephews John Buckley, Ron Buckley, Jerry Buckley, Jeff Buckley, Randy Buckley, Mike Allegre and Pat Allegre and nieces Darlene McConnell and Renee Buckley.
She was preceded in death by her parents, brother Claude, sister Arlene Allegre and husband Rupert "Gill" Gillmouthe.
Janiece's celebration of life was held at Anderson's Tribute Center Monday, Sept. 21.
In lieu of flowers, donations may be made to the FISH food bank.
Arrangements are under the direction of Anderson's Tribute Center (Funerals • Receptions • Cremations), 1401 Belmont Ave., Hood River, OR 97031; 541-386-1000. Please visit andersonstributecenter.com to leave a note of condolence for family.

Condolences are being received online.