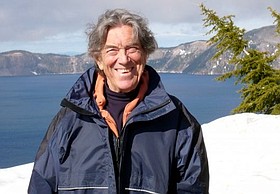 William "Bill" W. Lyons
January 3, 1935 - September 21, 2015
William W. (Bill) Lyons, 80, loving husband, father and grandfather, died Sept. 21, 2015, in Portland, Ore., from complications of pancreatic cancer.
Bill was born Jan. 3, 1935, and raised in Lansing, Michigan. He attended St. Mary's High School, where he met his lifelong friends, Bob Buchel and John ("Jay") Smith. Following high school he entered Michigan State University, but in 1955 chose to volunteer for the military draft, heading first to Fort Devens in Massachusetts, and eventually to Germany. After an honorable discharge, he returned to university in 1957, receiving his degree in 1959. That same year, he met and married Beth Long.
Bill spent the first seven years of his professional career as a district manager for the Oldsmobile division of General Motors, posted in Portland, Ore., Great Falls, Mont., Bellevue, Wash., and Los Angeles, Calif. In 1966, Bill set his sights on a career in politics, and in May of that year he attended a luncheon where Senator Henry "Scoop" Jackson gave an impassioned speech, "The Will to Stay the Course," about the Vietnam War. Bill got up the courage to approach the senator, and after a brief talk, was given a contact in the senator's office to call when he arrived in Washington. With that, he moved his family to Washington, D.C., where he joined the Department of the Interior. He served as Deputy Under Secretary prior to leaving his post in 1977.
After his time in public service came to a close, he and Beth moved the family back to Portland, where they had lived when they were first married. He joined Pacific Power & Light as assistant to the chairman, and then moved to NERCO, a coal and uranium mining subsidiary.
He spent 15 years there as a senior vice president with responsibility for government and public affairs, human resources, permitting and development, legal coordination, environmental oversight and foundation matters. He also served as president of NERCO Advanced Materials Inc., from 1985 through 1993. During his time at NERCO, William earned an executive MBA at Stanford University.
In 1993, Bill and Beth bought a home in Hood River, where they spent the next 11 years. During his "retirement," Bill once again dedicated himself to public service, serving on the County Planning Commission, the Port of Hood River, the Oregon Investment Board, the Mt. Hood Economic Alliance and the Mid-Columbia Agricultural Research and Extension Center Advisory Board. He was also a passionate supporter of the arts, serving on the boards of Portland Rep, Artists Rep, Portland Opera and OMSI.
In 2003, Bill and Beth purchased a beach house at Seaside, where he was happiest playing with his grandkids, walking on the beach or riding his bike on the prom. In 2005, he and Beth returned to Portland, to be closer to family.
A voracious reader and lifelong researcher, Bill was always surrounded by books, newspapers and magazines. Everyone who knew him, knew he was always ready to jump in to help research any issue, any topic or any problem they might have. He was a friend, a confident, a surrogate father to many, all who will miss him dearly.
Bill is survived by his devoted wife of 56 years, Beth; daughters Lisa Burt, Laura Macey, Sarah Joannides and Bridget Wise; eight grandchildren; and his brother, Edward Thomas, of Denver, Colo.
Memorial donations are suggested in lieu of flowers to St. Jude Children's Research Hospital or the American Cancer Society.