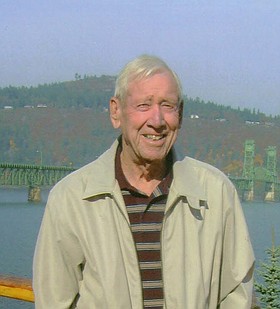 Edgar "Ed" Holmson
Hood River, Ore.
April 8, 1919 - March 27, 2016
Edgar (Ed) Holmson, 96, passed away on March 27, 2016 (Easter Sunday), while in the presence of family and his special friend/ companion Phyllis Stewart. On April 8, 1919, while his parents and older brother were moving to California, Ed was born in a spare bedroom of the local sheriff's home in Gallup, N.M. Apparently at the time there were no other vacancies in town. Two weeks later, Ed's dad (Holm), a physician, and mom (Edna Berg) moved to Anaheim, Calif., where Ed lived for most of his life.
After graduating from UCLA (go Bruins!) with a degree in banking and finance, Ed worked for GMAC, selling vehicles (during the day) and occasionally repossessing vehicles (during the night). On Oct. 19, 1942, Ed enlisted into the US Army (201st Army Air Forces Base Unit) and was honorably discharged on Feb. 8, 1946, at the rank of Staff Sergeant. He was the proud recipient of the Good Conduct Medal. After World War II, Ed reunited with a college fraternity brother who offered him a job at Knott's Berry Farm in Buena Park, Calif. His job was to help out the Knott's Food Products Division (jams/jelly). In the beginning, that meant rounding up the amusement park's train robbers and Ghost Town characters to help pack jam/jelly gift packs when needed. Over his 33-year Knott's career, Ed helped Knott's expand their Knott's Berry Farm Foods jams and jellies gift packs to a nationwide level, including kiosks in shopping malls, and eventually expanding/moving the jams/jellies cooking production site offsite to nearby Placentia, Calif. He eventually held the position of vice president within the food division of Knott's Berry Farm. His fruit buying trips to Oregon for Knott's foreshadowed his relocation to the state in later years.
Ed married Jean B. White of Santa Cruz, Calif., in 1948 and they had one child, Bruce.
Ed and Jean loved to play golf and were members at the Yorba Linda Country Club and, later on, at the Shadow Mountain Golf Course in Palm Desert, Calif. Ed and Jean loved to travel, dine out, and lay out by the pool. When Jean became ill, Ed was her primary caregiver for seven years until she passed away in 1998.
In 2006, Ed moved to Hood River, Ore., to be near his son, daughter-in-law, and grandchildren. He was a major supporter who helped all of his three grandchildren in college and a mainstay at graduation ceremonies, many birthday parties, and other family events. In 2006, he reconnected with a college sweetheart (Phyllis) and thus began a 10-year love relationship. Despite their age, they would travel back and forth, between their homes, and were able to travel to Arizona (Grand Canyon), Yellowstone National Park, the Oregon Coast and Canada. In 2014, Ed took great pleasure in meeting his first great-grandson and was delighted to learn of the birth of his second great-grandson in the days before his passing. He attended Hood River Valley Christian Church and was proud to maintain an independent lifestyle up to the very end.
Ed is survived by his loving family, including child Bruce Holmson (Kathleen), Hood River, grandchildren, Andy Holmson (Lindsay), Bainbridge Island, Wash., Lauren Holmson, Hood River, and Carole Holmson, Hood River, and two great-grandchildren, Luke and Connor, Bainbridge Island. He is also survived by his special friend Phyllis Stewart, San Bernardino, Calif. Ed's parents, brother Art, wife Jean, and granddaughter Megan predeceased him.
Our family would like to thank the following physicians and staff for their care and diligence with Ed: Gary Gingrich (Gorge Urology), Stephen Vogt (PHRMH Internal Medicine Clinic), Daniel Cannon (Columbia Gorge ENT and Allergy), Steven Bailey (OHSU-Casey Eye Institute), PHRMH ED, and Providence Hospice of the Gorge.
A memorial service will be held April 8 at 11 a.m. at Valley Christian Church, 975 Indian Creek Rd., Hood River. Remembrances can be made to the church or a charity of your choice. Arrangements are under the direction of Anderson's Tribute Center (Funerals • Receptions • Cremations), 1401 Belmont Avenue, Hood River, OR 97031. Please visit www.AndersonsTributeCenter.com to leave a note of condolence for the family.
Services for Edgar Holmson
April 8, 2016

Memorial service: 11 a.m.
Valley Christian Church, 975 Indian Creek Rd., Hood River.