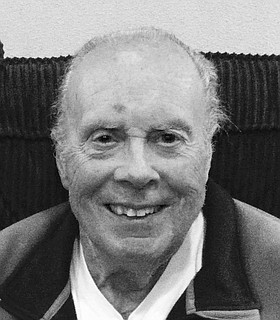 Richard "Dick" Elwood Cathey
May 23, 1930 - March 22, 2016
Richard Elwood Cathey passed away March 22, 2016, in Portland, Ore. Dick was born to Homer and Florence Cathey on May 23, 1930, in Snoqualmie, Wash. He attended grade school at North Bend, Wash., then Mt. Si High School in Snoqualmie. He was selected All-State in track and was a member of competition-winning chorus and barber shop quartet groups. He was selected by the Coast Guard and entered service in September 1948, serving in Everett, Wash., Groton, Conn., and then ship-board on the USS Wachusette for the Korean conflict, and duty tours in Japan and the Bering Sea. His Coast Guard enlistment ended in April 1952, and he started working for Weyerhauser Timber Co. in North Bend as a choker-man.
Dick entered college at the University of Washington after his marriage to Barbara Wallace in the fall of 1953. He became a crewman and member of the Rowing Club, Men's Physical Education Club and Letterman's Club. He graduated in June 1957 and was a life-time alumni. His first teaching job was in Cashmere, Wash., in 1957 and 1958. He joined a family business in Seattle until 1963, when he and Barbara moved the kids to San Diego and his first FBI post.
Not finding his second post in Los Angeles (which included the Watts riots) as much to his liking, the family, with four kids, Spencer and Warren Cathey, Lynn Rogers and Shannon Hann, moved to another family venture, as shareholder/operators of the Monticello Hotel, in Vancouver, Wash. In the fall of 1969,he received his MA degree in Police Science from Washington State University and became an associate professor at the University of Illinois Police Training Institute until fall of 1975.
United Telephone Co. (which later turned into Sprint) in Hood River hired him as security and safety administrator, allowing him to return to the Pacific Northwest. He was active in Lion's Club, UTS Credit Union Board, and Hood River Electric Coop.
Dick married Anne Kilty in 1984. After retirement from Sprint, he enjoyed being a docent at the Bonneville Dam, leading tours and entertaining tourists with his endless supply of jokes. He and Anne had many adventures, including travelling the U.S. in their RV, tours to Australia, New Zealand and cruising down the Rhine River in Europe. Nonetheless, Dick was a self-professed homebody who loved to putter around his workshop, landscaping their lovely country property and working on his vehicles and boat.
Fitness was very important to Dick and he worked out every day in his downstairs home gym with a beautiful view of Mount Adams. He also had a great love of dogs and he and Anne always had at least one, if not two or three. In his final years, he was fortunate to have his last brown dog, Brynn, residing with him at Rock Cove Assisted Living in Stevenson, Wash. He was pre-deceased by Anne in 2014, and leaves behind his four children and six step-children. Memorials may be given in his name to the Odell Lions.