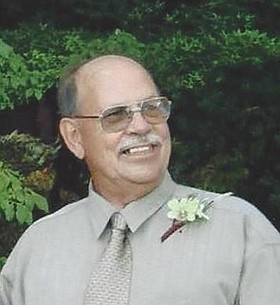 Larry G. Clark
unknown - April 14, 2016
Larry G. Clark, 79, passed away April 14, 2016, surrounded by family after his courageous battle with cancer. Larry was born in Iuka, Miss., in 1937 to Luther and Bessy Clark. Larry married Phyllis Chamness in April 1955. They had three Children, Larry Michael Clark, Lori Ann Clark and Jeffrey Lynn Clark.
Larry started work early in life, leaving school in the eighth grade to work with his brother at Nibco plumbing. At Nibco, he worked his way up to become a machinist before leaving Indiana.
Larry and Phyllis moved to Lyle, Wash., in 1971 with their three children. After moving to Lyle, Larry continued working as a machinist in Carson while opening the Lyle Café in 1972. In 1981, Larry and Phyllis opened a second restaurant, PJ's, in Bingen, Wash. When Larry wasn't entertaining the regulars, he could be found in the kitchen making sure everything was running smoothly. He also worked with his brother-in-laws in the local construction trade for several years and passed his knowledge along to his family. Duct tape and bailing twine were a common fix it in the "Clark" family.
Larry loved his family and enjoyed spending time with his grandchildren and later his great grandchildren. He was always there for anyone who needed him. Whether it was to go fishing, fussing with plumbing or just giving you some advice, you could always count on him. In retirement, Larry could be found traveling, crabbing and playing poker with his friends. His words of wisdom and quick wit will be dearly missed.
Larry is survived by his son Mike Clark (Nina) of White Salmon, Wash., daughter Lori Clark of White Salmon, and son Jeff Clark (Lori) of Arlington, Wash., and his seven grandchildren, John Clark (Heather), Jacob Pimley (Kylan), Amy Latimer (Mike), Christopher Pimley (Heather), Chad Clark, Jennifer Clark, and Steven Clark (Karalee). He was also blessed with 11 great grandchildren, Hazel Pimley, Sylvia Pimley, Kellyn Pimley, Colby Clark, Scotty Clark, Corbin Pimley, Gillian Clark, Madison Clark, Jillian Clark, Emma Latimer and Elisa Latimer.
There will be a graveside service at 10 a.m. on Saturday, April 23 at the White Salmon Cemetery (Snowden). The family welcomes all whom wish to join in the celebration of his life.
Services for Larry G. Clark
April 23, 2016

Funeral: 10 a.m.
White Salmon Cemetery (Snowden)