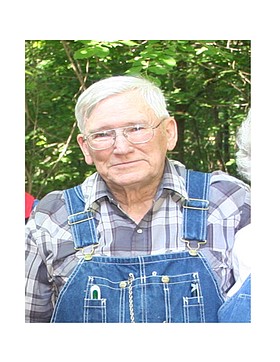 Rev. William "Bill" Henry Menasco
January 1, 1932 - April 18, 2016

Rev. William Henry (Bill) Menasco of Benton, Ark., went to be with his Lord and Savior on April 18, 2016. Bill was a gentle giant of God.
Bill was born in Hartshorne, Okla., on Jan. 1, 1932, to Floyd Boone Menasco and Opal Gertrude Frakes Menasco. Both proceeded him in death.
After graduating from Hartshorne High School in 1950, He joined the U.S. Navy from Jan. 12, 1953, to Jan. 11, 1954. He was member of the Naval Reserve 1954 to 1959.
Bill married Molly Audrey Workman of McAlester, Okla., Feb. 9, 1955.
Bill attended Okmulgee Tech (now known as OSU Institute of Technology), graduating in August 1956. Bill was called to the Ministry of God and attended the Oklahoma Missionary Baptist Seminary, graduating in 1961. He then preached and helped establish several Missionary Baptist churches. But he also loved and worked as a diesel mechanic.
He is survived by his wife, Molly Audrey Workman Menasco, and three children: daughter Elizabeth Aline Witcher and husband Aubrey, and sons David Alden Menasco and wife Peggy Jo Thayer Menasco, and William Thomas Menasco and wife Sharon Lynn Moore Menasco.
He is also survived by grandchildren William (Billy) CL Witcher, Dennis Lee Witcher, Justin Wayne Menasco, Nina Renee Menasco, Sarah Fae Menasco, Rebekah Lynn Menasco and Thomas Ryan Menasco, and great grandchildren Aliyah Haven Menasco, Jalynn Marie Menasco, Emma Marie Tavares, Trenton William Menasco, Lily Juliet Menasco, Damon Lee Witcher, Alison Jayne Witcher, Jesse Logan Witcher, Corey Jayden Witcher, and Sabrina Bernstein.
Bill is also survived by siblings Elizabeth (Betty) A. Kimberling of Edmond, Okla., Barbara G. Ball of Port Hueneme, Calif., Linda M. Willowbrook of Yukon, Okla., and his only brother, Thomas Floyd Menasco of Edmond. He has numerous nieces and nephews.
Bill is resting with his Lord and Savior with a big smile on his face.