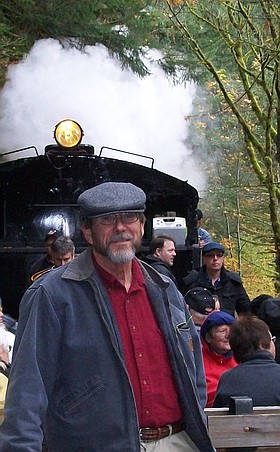 Eric Hanson Pelton
April 24, 1944 - April 15, 2016
Eric Hanson Pelton passed away on April 15, 2016, at his home in White Salmon with his wife, Jeanne, by his side.
Eric is survived by his wife, Jeanne (Strube); sisters, Karen Sires and Dick of Billings, Mont., and Julie Pelton of Denver, Colo.; step-sister, Wendy Holloway and Michael of Holloday, Utah; step-brother, Court Kimball and Sandi of Bountiful, Utah; daughter, Deidre Alcock and Chad of Roseburg, Ore.; step-daughters, Julie Routson and Darrin of Parkdale, Ore., Lauren Leon, White Salmon, Wash., and April Warneke of Salt Lake City, Utah; and step-sons, Dustin Barnette and Becky of Redmond, Ore., Brandon Barnette and Bethany of Las Vegas, Nev., and Cody Barnette and Audra of Carson City, Nev. Eric is also survived by 15 grandchildren.
Eric was born April 24, 1944, in Dixon, Ill., to Captain Benjamin Pelton and Irene (Hanson). The family moved from Illinois to Utah where Eric attended school. When Eric was in elementary school, he was part of the Mt. Ogden Boys Chorus and Trumpet Choir. In 1956, that group traveled almost 5,000 miles, touring and performing at various venues from the Sevier Stake Tabernacle in Richfield, to the Grand Canyon, to Washington, D.C. Each musical member received a personal letter from the Utah Senator, Arthur V. Watkins, commending their talents and dedication to their performances.
In 1962, Eric graduated from Ogden High School. He then graduated from Weber State College in 1967, with a B.S. in Zoology. He was pursuing a Master's degree in Aquatic Biology at the University of Utah as well as working at the University in the air pollution lab. It was during the spring of 1967 that he met his first wife, Leanne Yamaguchi. Eric and Leanne married in 1969.
Working as a fisheries biologist for U.S. Fish and Wildlife took Eric from the Tishomingo National Fish Hatchery in Tishomingo, Okla., to the Williams Creek National Fish Hatchery located at McNary, Ariz., on the White Mountain Apache Reservation. In 1974, Eric and Leanne welcomed their daughter, Deidre. After Arizona, the Pelton family moved to Bunker Hill, W. Va., so he could attend a training program at the Eastern Fish Disease Lab. Later he was assigned to the Genoa National Fish Hatchery in La Crosse, Wisc.
The final major move was to the Willard National Fish Hatchery in Willard, Wash. The family actually lived in housing on the hatchery.
Eric finally stayed in Washington and was transferred to the Lower Columbia Fish Health Lab at Underwood, Wash., and then later at Willard.
Eric married his second wife, Beverly (Schultz) in 1988, and inherited a treasured family of step-children and grandchildren.
During Eric's 38 years in the Gorge, he also worked as an EMT from 1985-1992, and later worked at Mt. Hood Meadows. He was instrumental in helping to obtain new launch sites for windsurfers in the Gorge, served two terms as the first president of the Columbia Gorge MG Club out of Portland, Ore., a year as the vice-president, and then one year as the activities director. He also drew the current MG Logo for the CGMG Club. The Secret Salsa Society has had Eric as their treasurer for the last six years.
Eric loved breeding tropical fish. He loved working on MG's, skiing, windsurfing, bowling, singing in a barbershop quartet, and later in life joined the Secret Salsa Society where he met and fell in love with Jeanne. The two were married on September 10, 2011. They were happily married for four-and-a-half years. He spent those years full of delight in the magic of dancing with his beloved wife, Jeanne, attending MG Tech Nights, traveling, and enjoying each other's company in their home in White Salmon. Jeanne's grandchildren were like his own. They loved him very much.
He retired from the U.S. Fish and Wildlife after 41 years in 2010. He loved his family, dancing, and his many hobbies. He will be missed by all who knew him. Eric always said that his one wish, if he had ever won the lottery, would be to replace all the windows and floors at the grange. It was like a second home to him. Over the last eight years, he volunteered many hours to the dance community there and wanted others to be able to enjoy the grange, too.
The memorial service will be held on Sunday, May 1, at 2 p.m. at Gardner's Funeral Home in White Salmon, Wash. In lieu of flowers, please send your noted donations to help with much needed repairs to Mt. View Grange No. 98, c/o Pat Sajdak, P.O. Box 718, White Salmon, WA 98672.
Services for Eric Hanson Pelton
May 1, 2016

Memorial service: 2 p.m.
Gardner's Funeral Home in White Salmon, Wash.