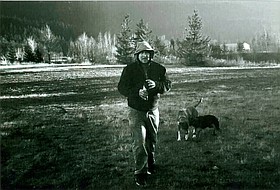 Del August Gierke
Cascade Locks, Ore.
August 29, 1989 - July 20, 2016
Del August Gierke passed away in Cascade Locks, Ore., on July 20, 2016. He was 26 years old, born Aug. 29, 1989.
He is survived by his girlfriend, Aundrea Sunde and their two children, Gage Gierke (3 years old) and Catherine Gierke (1 years old); and his grandparents, Jim and Kathryn Stutters. Del was blessed with two sets of parents, Carol Stock and Dave Gierke and Darrell and Linnea Prowett; brothers Kyle and Tyler Prowett, Eric Prudell; and sisters Hannah Gierke, Candace Rawcliffe and Alicia Hernandez.
Del came to our family as a young boy. Those shinny green eyes and that quick smile were captivating for all who knew him. Del gave love and kindness to others freely. He had a bond with our family that will last a lifetime for each of us, his friends included. Del loved fun, laughing and being free, mechanics, and mudding with his brothers and friends. Mention camping or fishing and he was ready! He also enjoyed the quiet and calm of the outdoors and sitting around the fire with his family.
Del carried his responsibilities heavily on his shoulders — he worried deeply when he could not find a way to accomplish the needs of others.
Del will be in our hearts for as long as we live. Your young son and daughter will know you through the love we share with them for you.
We will watch over them now and always Del.
May you rest now and be free. Love and miss you always … Mom and Dad (Prowett)
A graveside service for Del will be held Saturday, Aug. 6 at noon at Cascade Locks Cemetery, WaNaPa St. N. W., Cascade Locks. Arrangements are under the direction of Anderson's Tribute Center (Funerals • Receptions • Cremations), 1401 Belmont Ave., Hood River.
Please visit AndersonsTributeCenter.com to leave a note of condolence for the family.
Services for Del August Gierke
August 6, 2016

Graveside service: noon
Cascade Locks Cemetery, WaNaPa St. N. W., Cascade Locks