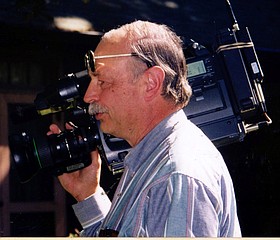 Thomas "Tom" Richard Senior III
Hood River
May 18, 1940 - July 13, 2016
The memorial service for retired television news photographer Tom Senior will be Sunday, Aug. 14 at 2 p.m. at St. Paul's Episcopal Church in The Dalles.
Senior, 76, died at home in Hood River on July 13. He had suffered from Parkinson's disease for about two decades.
A graduate of the University of Oregon, he worked as Hood River's assistant city engineer and then public works director before leaving in the early 1980s to concentrate fulltime on television news.
It was a choice he never regretted. He did in-house stints at Portland stations over the years but mostly worked on his own, reporting from eastern Oregon and southwest Washington. He shot video for U.S. television networks as well as for networks in China, Japan and Germany.
Television colleagues described Senior as funny, determined, kind and unflappable. Over the years he covered the full range of regional news, from forest fires and floods to crimes, accidents and politics. Perhaps most memorably, he chronicled over several years the saga of Indian guru Bhagwan Shree Rajneesh and his followers. The story included what remains this country's largest incident of bioterrorism, when the Rajneeshees poisoned restaurant salad bars in The Dalles with salmonella, and some 750 people fell ill.
The Rajneeshee commune in Wasco County began to collapse in September 1985, after several of the guru's chief lieutenants decamped to Europe and revelations of sham marriages, arson, voter fraud, murder plots and more were revealed.
Senior and his wife Jeanie, a reporter for The Oregonian, lived at the Hotel Rajneesh in Rajneeshpuram from September into December of that year, covering what became international news. His video of the sect's conflicted time in Oregon has been featured in a number of films and documentaries.
Thomas Richard Senior III was born May 18, 1940, in Bridgeport, Conn., the fourth child of Samuel P. Senior Jr. and Janet Slade Senior. His father, a mining engineer who graduated from Lehigh University in Pennsylvania, and his mother, a classical pianist who was studying in New York City, met when they attended a Lehigh reunion with their parents. Both of Senior's grandfathers and a great uncle were civil engineers, all Lehigh graduates.
Senior grew up in Fairfield, Conn., but visited his Hood River grandparents, J.E. and Elizabeth Slade, in the summers. He moved to Hood River to live with his mother in 1955, and graduated from Wy'east High School. Besides his wife, survivors include his sister, Sally Senior, of Berkeley, Calif.; nieces Libby Bickford, Hood River, Ann Russell, Davis, Calif., and Susan and Sally Senior, Portland; nephews David and Peter Russell, Mendocino, Calif., and Russell Senior, Portland; cousins in California, Maine, Massachusetts and Washington; a wide circle of friends, and three dachshunds: Daisy, Louis and Smudge.
Senior was a keen traveler, an avid fly fisherman, an amateur radio operator with an advanced license, and a competent machinist who built several working miniature stationary steam engines. He and Jeanie took twice-a-year camping trips to Wyoming and Montana until his illness intervened. The couple, who celebrated their 50th anniversary in March, visited Britain, Switzerland, Italy and France almost annually during the 1980s.
The family suggests memorials in his name to Adopt a Dog Inc. at the Hukari Animal Shelter in Hood River, Home at Last Humane Society in The Dalles, or another nonprofit that helps dogs.
Services for Thomas Richard Senior III
August 14, 2016

Memorial service: 2 p.m.
St. Paul's Episcopal Church in The Dalles