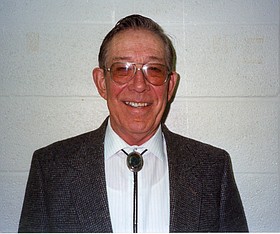 Leon "Fritz" Fredrick Holtman
December 17, 1927 - August 11, 2016
Leon Fredrick "Fritz" Holtman was born in Elgin, Neb., on Dec. 17, 1927, to Nellie (Buckmaster) and Fredrick Holtmann. He married Freda Grunke on Oct. 26, 1950, in Ilwaco, Wash., and the couple made their home in White Salmon, Wash.
Fritz worked for SDS Lumber Company as a logging foreman and also owned and operated the Rodeo Drive In Theater and Rodeo Car Wash until his retirement. He was a member of the Lutheran church and a member of the United Methodist church since 2000. He enjoyed working in his garden and orchard, and could always been seen at his grandchildren's activities and events.
Fritz passed away at his home in White Salmon on Aug. 11, 2016, at the age of 88. He is survived by sisters Verna Sullivan of Denver, Colo., and Mary Ann Voigt of The Dalles, Ore.; brothers Bill Holtmann of Gold Canyon, Ariz., Kenny Holtmann of Vancouver, Wash., Rick Holtmann of White Salmon, and Duane Holtmann of Camino Island, Wash.; son Greg (Christy) Holtman and daughter Geraldine (Ron) Logan, both of White Salmon; daughter-in-law Kendall Holtman of Visalia, Calif.; eight grandchildren, seven great grandchildren and numerous nieces and nephews. He was preceded in death by his wife Freda, son Garry, sister Clara Nigro, and brothers Ray and Jerome.
A memorial service will be held at 11 a.m. on Saturday, Aug. 20 at the United Methodist Church in White Salmon, with a reception to follow at Laurelbrook in White Salmon. Donations in Fritz's name may be given to the Prayer Garden Care at the White Salmon United Methodist Church and Providence Hospice of the Gorge.
Please send condolences to the family by visiting www.gardnerfh.com.

Services for Leon Fredrick Holtman
August 19, 2016

Memorial service: 11 a.m.
United Methodist Church in White Salmon