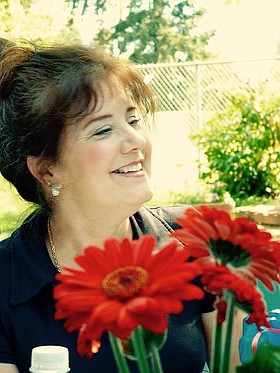 Marlene Jo (Gest) Ivey
December 12, 1956 - August 8, 2016
Marlene Jo (Gest) Ivey was born Dec. 12, 1956, and passed away on Aug. 4, 2016.
God brought an angel to earth in the form of Marlene — she showered us with her love and laughter, her songs and poems. She loved meeting people and engaging in lengthy conversations. Her heart held an endless capacity for love of others.
Marlene was born in White Salmon, Wash., with her twin sister, Charlene. She was born with a birth defect and spent much of her childhood in and out of the Shriner's Hospital in Portland, Ore., where she underwent multiple surgeries and painful treatments. These surgeries and treatments continued throughout her life. Marlene faced her disability with a smile and humor, just like she faced life, rarely complaining and always wanting to know how "you" were doing.
Marlene grew up in Hood River, Ore., and graduated from Hood River Valley High. She attended the University of Oregon and graduated with a Bachelor of Science degree. She then went on to attend Portland State where she earned her Master's in social work. Marlene worked for the State of Oregon as a social worker at Fairview Training Center, then went to work as a policy analyst for the Department of Education, and later worked for the Human Services Department. She took early retirement due to her disability.
Marlene loved her family dearly, especially her mother, who was always there to support and care for her. She was very creative, which was reflected in her home, a stage for her art and designs. She was a writer, leaving behind endless stories, songs and poetry.
Marlene is survived by her mother, Pat Gest; sisters Dianne Blair, Mari Anne Gest and Susan Latham; brother John Gest; daughter Mallory Herzberg and stepdaughter Mindy Axmaker; numerous nieces and nephews who were all very dear to her; as well as her best friends Terry Stein, Priscilla Gest and Debra Morris. Marlene's other half — her twin sister Charlene — preceded her in death, as did her father John M. Gest.
There is much joy in our hearts knowing that Marlene is finally free of pain and running and dancing in heaven with her twin sister, whom she adored. We will miss you, but we know your faith was strong and you are well cared for in the arms of your twin and Jesus, finally, finally free of pain.
A celebration of life will be held at the First Christian Church in Salem, 685 Marion St., at 1 p.m. on Saturday, Aug. 27. Donations in Marlene's memory can be made to Shriners Hospital in Portland and/or Salem First Christian Church. Assisting is Virgil T. Golden Funeral Service, Salem, Ore.
Services for Marlene Jo (Gest) Ivey
August 27, 2016

Celebration of Life: 1 p.m.
First Christian Church in Salem, 685 Marion St.