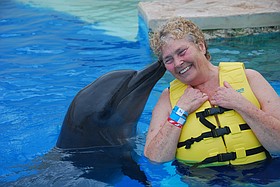 Pamela Dee York Hawkins
December 28, 1946 - August 15, 2016
Today our world is a little dimmer as her star shines brighter in the night sky. She was known for her smile laugh and her big heart. She was always up for an adventure.
Pamela Dee York was born on Dec. 28, 1946, to Olvern and Deloris York in San Diego, Calif. She was followed by her brother Michael three years later. In 1966, she married Ward Monroe and they had two children, daughter Suzy and son James. Although she worked fulltime, Pam never missed an event the kids were involved in and as a family, they enjoyed a very active lifestyle, fishing, camping, skiing, and snowmobiling, just to mention a few family favorites. She and Ward separated in 1983.
The next chapter in Pam's life, having the kids nearly grown, was working a few different jobs. She then found herself as a white water rafting guide on the Deschutes River. She loved this summer job tremendously for the adventure. She moved away for a while to St. Helens, Ore., to be closer to her mom. Upon returning to Hood River, Pam met the loves of her life in Al Hawkins, and a short time later, in 1987, her first grandchild, Sara. A true match made in heaven, she and Al married in 1992 and their two families grew into one. Although total opposites, they had a love like no other.
As the years passed, Pam continued a life of adventure, filled with spending time with family and friends, traveling and seeing the sights … doing anything and everything that involved her family or friends. If there was something going on, she was there. She enjoyed going shopping, going to Disneyland and riding on roller coasters, or traveling across the country to see grandchildren. Her latest adventure involved trying to talk her son-in-law Darin and grandson Brad into going zip lining. She also delivered Meals on Wheels one day a week with her good friend Barney.
Pam's love for her family was endless, and her smile lit up every room. Her grandchildren were the light of her life. In October of 2015, she fell in love all over again when her first great granddaughter, Ella, was born, who quickly became the center of Pam's world.
Pam's love for life and family, as well as her sense of adventure, will be missed dearly. She would not want to be remembered with tears, but with a laugh and a smile, remembering all of the good times.
Pam was preceded in death by her mother Deloris York, father Olvern York, grandson Michael Monroe and granddaughter Sarah Kubik.
Pam is survived by and will be dearly missed by her husband Al Hawkins, her sister-in-law Janet, brother-in-law Charlie and sister-in-law Dorrie; daughter Suzy Coreson and husband Darin; son James Monroe and wife Julie; daughter Theresa Will and husband Brett; daughter Becky Woody and husband Sam; daughter Debbie Kubik and husband Tom; son Mike Walshe and daughter Lisa Hawkins; grandchildren Sara, Brad, Annie, Spencer, Alayna, Evan, Rachel, Kyle, Chris, Kimberly, David, Daniel and Nick; and great-grandchildren Ella, Danielle, Brooke, Makailah, Aiden, Alexia, Caleland and Daniel Jr.
A Celebration of life will be held for Pam on Sunday August 21 at 1 p.m. at Anderson's Tribute Center.
In lieu of flowers please send donations in Pam's name to Meals on Wheels – Hood River, 2010 Sterling Place, Hood River, OR 97031.
Arrangements are under the direction of Anderson's Tribute Center, 1401 Belmont Ave., Hood River.
Please visit AndersonsTributeCenter.com to leave a note of condolence for the family.
Services for Pamela Dee York Hawkins
August 21, 2016

Celebration of Life: 1 p.m.
Anderson's Tribute Center