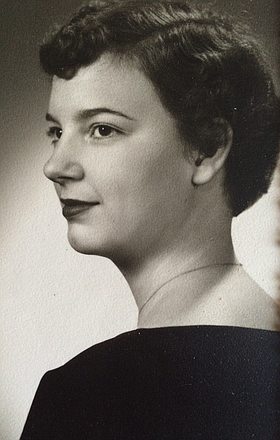 Suzanne Smullin Topliff
Sunnyvale, Calif.
April 17, 1940 - July 30, 2016
Suzanne "Zannie" Smullin Topliff of Sunnyvale, Calif., drove down her final fairway on July 30, 2016, at 76 years of age, just four days after learning of her lung cancer. Sharp-witted throughout, she kept the doctors and nurses in stitches, letting anyone and everyone know exactly what she thought of her diagnosis. Ultimately, she made more people laugh than cry, which is a winning record by any account.
Born on April 17, 1940, in Portland, Ore., to Barbara Linden Ungerman Smullin and Joseph Smullin, Jr., who deeply wished to live and work anywhere but his family's orchard in rural Parkdale. When Zannie was 2, however, her grandfather broke his arm crank-starting the tractor and the whole family, including older sister Mary Jo, moved back to the homestead not far from the majestic Mount Hood. She loved "her mountain," whether from her bedroom window while running amok amongst their apple and pear trees or kissing the boys in the maples.
Even with her many farm duties, Zannie found time to ride her bike all over town with her lifelong friends Gail and Marcia, with whom she attended Parkdale Elementary and Wy'east High School. She was the sportiest of the three, excelling at tennis, volleyball, golf and skiing down the mountain at nearby Cooper Spur. The inseparable three girls stuck with each other, through proms and dances, boyfriends and breakups, until college admissions took them away from the quiet farm town. Zannie left her parents and little sister Sally in Parkdale and joined Mary Jo at Willamette University in Salem, Ore.
Zannie and Gail continued their pursuit of higher education together, while also finding dance partners and plotting to see the world outside of Oregon. Together they went to class, joined the Pi Beta Phi Sorority and wheedled their way into a study abroad program in Vienna, despite little knowledge of German.
After completing her education at Oregon Health and Science University as a qualified medical technician, Zannie packed up and headed south to San Francisco. She moved into a fabulous coed boarding house in Pacific Heights called The Pink Palace, home to the oldest cocktail party in the west. There, she met a quiet but dashing young local accountant named George, with a penchant for martinis, a wit to match hers, and a motorboat. She traded her downhill skis for water skis and eventually her dance card for a marriage certificate.
With the impending arrival of their first child, Julianne, George and Suzanne headed further south still to where the orchards were giving way to the technology booms of the Silicon Valley. They bought a happy home in Sunnyvale — and stayed there for the next 50 years — with Christie and Brad rounding out the Topliff family in the following few years. She continued working as a med-tech until she decided to focus on the family, coaching teams, helping with homework and making sure her kids stayed alive and felt loved.
Through most of her life, Suzanne was an avid tennis player and even more so a golfer, until her back pain took away her back swing. She was an enthusiastic card player and often she sought to beat the house. She is mourned by many a blackjack dealer, as well as the house, who loved her willingness to keep trying. In her later years, she loved to play video games and will be remembered fondly by Mario, Luigi and Zelda. She was proud to have descended directly from the best and worst passengers on The Mayflower, as well as an accused witch, too stubborn to escape execution in Salem, Mass., in 1692.
Suzanne is survived by her sisters, Mary Jo Wade and Sally Green, her children Julianne Jones, Christie Hannemann and Brad Topliff, and The Committee, Lindy Duiven and Jane Williamson. Most importantly, she is survived by "her babies," the five little humans who made her proud by calling her "Grammie;" Hannemanns Ryan (17), Evan (14) Jack (11), and Topliffs Grace (8) and Hazel (6). All her babies miss her beyond words but are consoled to know she is with Papa now.
Suzanne held a disdain for formality that extends to her insistence on a lack of services. Her remains will be scattered in sight of her mountain and at her favorite spot at on the Oregon coast. In lieu of flowers and tears, those that care to are welcome to donate to the American Cancer Society or at the blackjack table of their choosing.