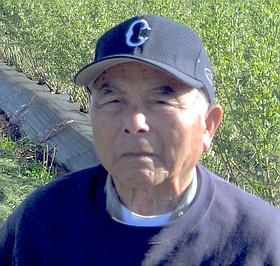 Kay Kiyokawa
Hood River
July 2, 1921 - December 13, 2016
Kay Kiyokawa, a lifelong resident of Hood River, Ore., was born on July 2, 1921, to Riichi and Rei (Kuga) Kiyokawa. He passed away at the age of 95 on Dec. 13, 2016, in Hood River.
Kay graduated from Hood River High School in 1939. He attended OSU and played baseball for the university. His life was interrupted when World War II broke out. He and his family were relocated to an internment camp in Tule Lake, Calif., along with tens of thousands of other Japanese Americans. With the assistance of the Quaker church, Kay was able to continue his education at the University of Connecticut, where he earned his degree in agriculture and horticulture. During his time at UConn, he played football and baseball. Kay excelled as a star pitcher and co-captain of the baseball team. One of his fondest baseball memories was in 2012, when he was able to watch his two college teams, OSU and UConn, play against each other in Corvallis. To his surprise, the UConn team came into the stands where Kay was seated and lined up to greet him and shake his hand.
After college, Kay returned to the family farm in Dee, where he farmed well into his 80s. Kay married Fuyuko Kamihara from Bellevue, Wash. They raised their three sons on the family orchard. He shared his love of baseball with his sons whom he coached, as well as many others who still remember Coach Kiyokawa from Little League and Babe Ruth days.
He kept his competitive edge by bowling throughout his adult life. Later he found his new passion, GOLF! Kay would spend countless hours making his own golf clubs and testing them out in his driving range in the orchard. To this day, golf balls can still be found in the orchard. He played in golf leagues in Hood River and Portland. He also helped out on the Dee Irrigation District and volunteered for the Dee Fire Department for many years.
Kay is preceded in death by his wife, Fuyuko, son Richi, and four brothers. Kay is survived by his sons Gerry (Nancy) of Portland, Donald (Meeling) of Hood River, and Craig (Leslee) of Bremerton, Wash., grandchildren Steven (Katie), Andrew, Mikayla, and Kara, and his sisters Emi Takayama, Kaz (Tom) Sumoge, and Shu (Seichi) Konno.
A viewing will be held Thursday, Dec. 22 from 4-6 p.m. at Anderson's Tribute Center. A celebration of life will be held at a later date.
Arrangements are under the direction of Anderson's Tribute Center (Funerals • Receptions • Cremations), 1401 Belmont Ave., Hood River.
Visit www. AndersonsTributeCenter.com to leave a note of condolence for the family.

Services for Kay Kiyokawa
December 22, 2016

Viewing: 4 p.m. to 6 p.m.
Anderson's Tribute Center