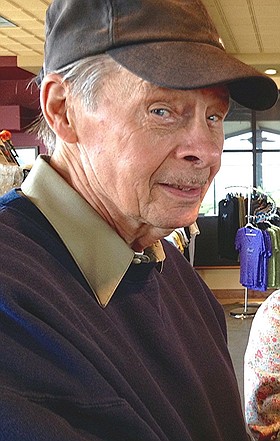 Casper "Bud" Pepitone
August 27, 1932 - December 17, 2016
Casper (Bud) Pepitone, age 84, died at Providence Brookside Manor in Hood River, Ore., on Dec. 17, 2016. Bud was born in Bellmore, N.Y., to Anthony Pepitone and Elizabeth Beyer Pepitone on Aug. 27, 1932.
Bud maintained lifelong friendships with two friends he met in kindergarten: Albert Paladino (deceased) and Richard Antonious. He graduated from Alfred University in New York, and then lived in Southbury, Conn., for many years. Bud moved to Hood River after he retired.
He greatly enjoyed his retirement years in Hood River. His time was productive, creating beautiful and bountiful gardens and working many satisfying hours with the Columbia Center for the Arts on Cascade Avenue and at the Western Antique Aeroplane and Automobile Museum (WAAAM) on Tucker Road. He enjoyed the friends he made along the way and, as always, lived his life inspired by one of his favorite musical artist's songs, "I Did It My Way," by Frank Sinatra.
Bud is survived by three children, Linda Pepitone of Auburn, Maine, Terri Selby (husband Bob) of Colton, N.Y., and Anthony Pepitone of Birmingham, Ala., four grandchildren, Cara, Sasha, Dale and Neal Pavlak, sister Nancy Hubert of Hood River, and two nephews and their families.
A Memorial Service will be held 3 p.m. at Anderson's Tribute Center on Saturday, Feb. 4, 2017, with a reception to follow.
Memorial donations may be made to the Columbia Center for the Arts, 215 Cascade Ave., Hood River, OR 97031, or WAAAM, 1600 Air Museum Road, Hood River, OR 97031.
Services are under the direction of Anderson's Tribute Center (Funerals • Receptions • Cremations), 1401 Belmont Ave., Hood River. Visit www.AndersonsTributeCenter.com to leave a note of condolence for the family.
Services for Casper Pepitone
February 4, 2017

Memorial service: 3 p.m.
Anderson's Tribute Center