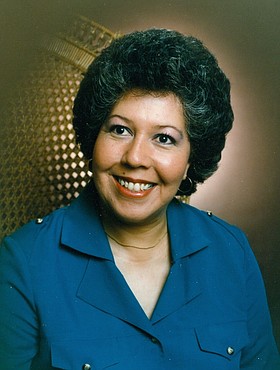 Joann Osborne
July 16, 1942 - December 19, 2016
Joann Osborne, age 74, of Parkdale, Ore., passed while under hospice care at the Hood River Care Center in Hood River, Ore. During the last nine years, Joann valiantly survived cancer two times: kidney cancer in 2007 and breast cancer in 2015. She struggled with dementia for many years and fell to its challenges on Dec. 19, 2016, at 12:30 a.m.
She was born in Fort Collins, Colo., on July 16, 1942, to Manual Cadena Sr. and Rose Lucero. She was a middle child, with an older sister, Victoria Chavez, and a younger brother, Manuel "Bobo" Cadena, Jr.
Shortly after Joann was born, the Cadena family moved from Fort Collins to Oakland, Calif., where her father worked in the shipyards during the World War II. In 1945, they moved to the San Antonio, Texas, area where they lived and worked on a farm/ranch. In 1950, they moved to Albuquerque, N.M., where she attended grade schools Lew Wallace and Alameda, then attended high school at Valley High.
At age 17, she left sigh school early and married Leroy Saiz on Oct. 31, 1959. Together, they had three children: Vincent, Richard, and Rebecca. Joann and Leroy divorced in 1969. She was a strong single mom for four years, raising her three children. During this time, Joann was working as a receptionist while attending Drahns Business School and taking classes at the University of New Mexico.
She began working for the U.S. Forest Service in 1971. Joann enjoyed working for the Forest Service, moving her way up from clerk status to supervisor. She volunteered during times of forest fire crisises and would go out to work as support crew with the "hot shot'' firefighters in New Mexico and Arizona. She was with the Forest Service for 20 years in both New Mexico and California before retiring at age 55.
Joann loved the outdoors and enjoyed trips into the wilderness of New Mexico. She especially enjoyed backpacking into remote areas of the Pecos wilderness and cross country skiing in Valle Grande, N.M. She assisted with a trail dedication ceremony for an archaeological dig in the Carson National Forest in Taos.
In 1973, Joann met the love of her life, Roger Osborne. With this union, she was blessed with the addition of three children that Roger brought from his first marriage: Michelle, Pierre, and Jacques. Joann was her happiest during the last 43 years with Roger and all their children.
Joann and Roger had dynamic lives, moving about the country, experiencing new adventures through New Mexico, Colorado, Arizona, Utah, California, Nevada, Washington, Louisiana, and Oregon.
Joann loved the southwest mountain regions, exploring ghost and mining towns, Native cliff dwellings, and other interesting nooks and crannies along the historic Route 66.
Joann is survived by her husband Roger Osborne, of Parkdale, Ore., son Vincent Saiz, of Albuquerque, N.M., son Richard Saiz, of Albuquerque, daughter Rebecca Maestas (Isaac), of Aztec, N.M., daughter Michelle, of Portland, Ore., son Pierre, of Portland, and son Jacques (Jori), of Parkdale, Ore.; grandchildren Vince Saiz, of Bernalillo, N.M., Allison Salaz (John), of Albuquerque, Edward Saiz (Stephanie), of Cuba, N.M., Ryan Downey (Leeann), Nicole Lane (Ryan), of Aztec, Madison Downey, of Aztec, Michael Downey, of Aztec, and Roger, of Parkdale; and great grandchildren Claudio Lane, Evan Lane, Jaden Downey, Soliana Saiz, Eulalia Saiz, and Mavis Saiz.
Joann was predeceased by her father Manuel Cadena, Sr. (July 28, 1997), mother Rose Lucero (June 13, 2010), brother Manual Cadena, Jr. (June, 27, 2011), and sister Victoria Chavez (August 31, 2016).
A private family ceremony will be held at Anderson's Tribute Center, Hood River, Ore., and a celebration of life service for family and friends will be held in New Mexico at a date and time to be announced. Joann will be laid to rest in Albuquerque.
Arrangements are under the direction of Anderson's Tribute Center (Funerals • Receptions • Cremations), 1401 Belmont Ave. Visit www.AndersonsTributeCenter.com to leave a note of condolence for the family.