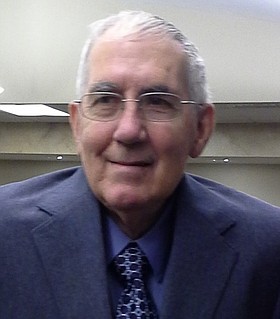 Wayne Henry Campbell
Hood River, Ore.
October 29, 1928 - December 17, 2016
Wayne Henry Campbell, a longtime resident of Hood River, Ore., died peacefully Saturday night, Dec. 17, 2016. He was 88. Wayne was born at home in Hoquiam, Wash., Oct. 29, 1928. He liked to say, "The same day as Mickey Mouse."
On Aug. 27, 1949, he first married Sadie Smith of Aberdeen, Wash. They enjoyed three sons, Jerry Wayne of Cascade Locks, Ore., Guy Henry of Carson, Wash., and Val jon of The Dalles, Ore. Wayne and Sadie had 53 years together before her demise, February 2002.
In 2003, Wayne married Doralaskus Thompson-Cull (Dorrie), also of Washington. They were married until Wayne's demise in December.
Besides his wife Doralaskus and his and Sadie's sons, Wayne is survived by two sisters in Washington State, Linda Pavletich and Arline Cook, and numerous grandchildren, great grandchildren, nieces and nephews.
Wayne will be remembered for many talents. He was an amazing cartoonist, entertaining family and friends with humorous caricatures until the last. As a younger man, he was a fine vocalist, singing publicly at times. He was also a skilled photographer.
Additionally, Wayne was an avid hiker. He discovered mountains and waterfalls at an early age. Over the years, he hiked Mount Hood and Mount Adams many times, as well as places in Montana and Washington. His experience took him many times to the Olympic Mountains; at age 18, he spent seven days alone, walking through the Olympics.
Of utmost importance to Wayne was his faith in Jehovah God. He was baptized as one of Jehovah's Witnesses in 1955. For 61 years, he zealously declared God's name as Jehovah. He further shared his hope of a resurrection back to this earth at a time when Jehovah's promise of a "paradise restored" has been realized (Psalms 37: 22 and 29) when pain and suffering have passed away (Rev 21:4).
Rod Phalen, Wayne's longtime friend, will preside over Wayne's memorial service to be held Dec. 31 at 1 p.m. at the Hood River Kingdom Hall of Jehovah's Witnesses, 1619 Tucker Road. All are invited to join with his family in sharing memories of Wayne Henry Campbell.
Services for Wayne Henry Campbell
December 31, 2016

Memorial service: 1 p.m.
Hood River Kingdom Hall of Jehovah's Witnesses, 1619 Tucker Road