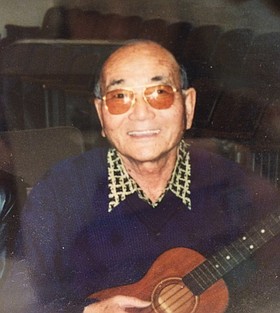 Danny C. Eguchi
May 1, 1930 - January 27, 2016
Danny C. Eguchi's wife and family members were with him when he went to be with our Lord on Jan. 27, 2016, in his home. Danny was born in Hawaii to Keiji and Hatsuyo Eguchi on May 1, 1930. He had two brothers, Jacky Eguchi and Tommy Eguchi (d. 1992), both of Hawaii, and two sisters, Elaine Strickland (d. 2012) of Washington and Harriet Ferguson of Alabama. His beloved wife, Phyllis, of 47 years, his brother Jacky and sister Harriet survive Danny. Family and friends were a priority and his brothers and sisters-in-law, numerous nieces and nephews and life-long friends will miss him dearly.
After graduating high school, Danny served five years in the Army. He married Phyllis Williams on October 5, 1968, and resided in Hawaii until they retired to Oregon in 2000.
Danny was an active member of Bible Missionary Baptist Church. He was an avid fisherman and loved traveling. Danny was a kind man with a generous heart and wonderful sense of humor. Danny loved to sing and laugh and our world became a little bit smaller with his passing.
Memorial services will be announced.