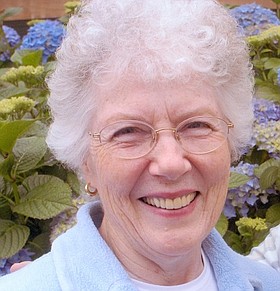 Beverly Ann Cederstam
Hood River
May 8, 1936 - February 9, 2016
Beverly Ann Cederstam, 79, passed away in peace Feb. 9, 2016, on her 61st wedding anniversary with Roy, her husband and soulmate, by her side. Beverly had been residing at Brookside Manor in Hood River, Ore., for the past year and a half.
Beverly was born May 8, 1936, in Portland, Ore., to John and Mary Vermeul (Harding).
She was preceded in death by her parents and daughter Christy Davis.
Beverly is survived by her husband Roy; son Eric and partner Tammy Hall; daughter Joan M. Jones and her husband Thomas of Birkenfeld, Ore.; brother John Vermeul; sister-in-law Gloria Vermeul of Redmond, Ore.; sister-in-law and brother-in-law Arlene and Leroy Peace of Yuba City, Calif.; and Nancy and Don Pachel of Seaside, Ore. She is also survived by five grandchildren and seven nieces and nephews.
Early in childhood, her parents moved to Seaside, Ore. Beverly attended grade school and graduated from Seaside High School in 1954.
For a short period of time, Beverly attended University of Oregon.
Beverly met her husband-to-be, Roy, after he returned from service in the Air Force. She was introduced to Roy by his sister Arlene. Beverly and Roy were married Feb. 9, 1955, in Springfield, Ore.
Over the ensuing years, they moved a number of times due to Roy's employment with Pacific Power and Light Company. From Seaside to Enterprise, Rainier, Beaverton, Sweet Home and finally to Hood River, where they resided the past 38 years.
Beverly was active in each community and always made life-long friends. She was a life-long member of the Episcopal Church. She served on Vestry And Women's Guild. Beverly was awarded Sweet Home Woman of the Year for 1973 by B.P.W. In Sweet Home, she was an assistant reading instructor helping children who had difficulty reading. Beverly worked for the Hood River County School District 16 years as an Assistant Special Education Instructor, retiring in 1994. She loved helping young children with special needs. She started at May Street Elementary then moved to Mid Valley in Odell and completed her career there. Beverly always had that soft spot in her heart for special needs children. She was caring and compassionate, firm but fair in all that she did.
Beverly and Roy enjoyed camping with their camper pickup and friends, traveling around the northwest and Canada.
After retiring, Beverly and Roy became involved in taking History America tours that covered Native American culture and history.
One of the most memorable was following the Nez Perce Trail to the Bears Paw in Montana. Elder Hostel Trips were on the agenda during those years also.
Beverly was a member of the Hood River Chapter of P.E.O. Sisterhood. She was a 42 year member, joining the Sweet Home Chapter in 1974.
Beverly loved gardening and you could often find her working in her flower beds. She also loved feeding the backyard birds and watching the nuthatches, chickadees, wood peckers, quail and towhees. Many a time you could hear her talking to chickadees and nuthatches and they would respond.
Her family was the most important thing in her life. She loved them dearly.
Bev and Roy were soulmates. They both believed their journey on earth was meant to be. They were together in the spirit world before and they will continue their journey together in the next heavenly life.
The family wishes to thank the Providence Hospice of the Gorge staff for their support and kindness. They are a wonderful group of dedicated folks. Also, the staff at Brookside, who were like family and Beverly loved them all. They are so compassionate and the family thanks them with their deepest appreciation.
"There's a warmth and joy that will never end — between the hearts of special friends."
A memorial service will be held at 1 p.m., Sunday, Feb. 21, 2016, at St. Mark's Episcopal Church, in Hood River, Ore.
In lieu of flowers, contributions may be made to Providence Hospice of the Gorge (1630 Woods Court, Hood River, OR 97031) or the Alzheimer's Association of Oregon (1650 NW Naito Parkway, Suite 190, Portland, OR 97209).
Arrangements are under the direction of Anderson's Tribute Center (Funerals • Receptions • Cremations), 1401 Belmont Avenue, Hood River, Oregon 97031.
Please visit Andersons TributeCenter.com to leave a note of condolence for the family.
Condolences are being received online.
Services for Beverly Ann Cederstam
February 21, 2016

Funeral: 1 p.m.
St. Mark's Episcopal Church, in Hood River, Ore.
Services Location
Anderson's Tribute Center
1401 Belmont Ave. Hood River, OR 97031
541-386-1000
Fax 541-386-7380