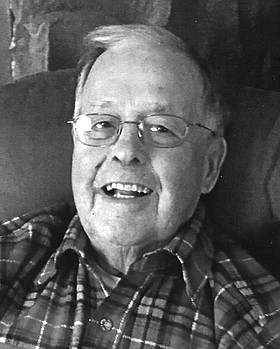 Charles "Chuck" E. Cody
Hood River
June 7, 1930 - February 5, 2016
Charles (Chuck) E. Cody, age 85, died at his home in Hood River, Ore., on Friday, Feb. 5, 2016, near midnight, with grandson John and granddaughter Katlin by his side.
A native of Hood River, Chuck grew up on Binns Hill, where he was born to Charles Samuel and Audra Shelton Cody on June 7, 1930. He arrived on a cold spring day before the doctor could arrive. He was placed in a wood-fired oven by a neighbor. Chuck always claimed this was the reason his eyes and hair were so dark.
He grew up with three siblings, two half-brothers and two half-sisters. They all shared in the orchard chores — big gardens, farm animals, cutting asparagus and picking fruit.
Charles had a summer job at an early age, pulling heavy hoses up and down the hills, keeping up with his father driving the horse-drawn spray rigs. At age 9, he drove an old car, and at 14 was delivering boxes of fruit to the Apple Growers Association warehouse in town.
Fun times included ball games with neighbor kids, going fishing in nearby lakes and streams — where no limits were imposed — and walking nine miles into town for the 10-cent movie matinee and then walking home again.
Winters held special fun for the Cody kids as they sledded the two miles down Binns Hill to school. Flying by the school usually meant an upset with lard-pail lunches flying past them.
When Chuck was 14, his dad died suddenly from an aneurism, leaving his mother to deal with the orchard, two high school kids and son Jim in the Navy. A few weeks later, he lost his younger brother, Glen, in a drowning accident. They gave up the Oak Grove home, bought a small place in the Barrett vicinity, and determined to earn their living milking cows. Again, Chuck's strong arms were needed to milk the eight cows morning and night, after school and sports practice.
Chuck attended Hood River High School, graduating in 1950. He was a valued athlete competing at State in the 440. He lettered in football, basketball, track and baseball. After his senior year, he was named to the Shrine All-Star football game played at the Multnomah Stadium in Portland. Chuck received a four-year scholarship to Oregon State College (now Oregon State University) in football. Before he could use most of that scholarship, he was drafted into the Army during the Korean conflict.
The time he spent in Korea included the winter months. He told of buddies digging foxholes into which they crawled along with oil drums that they fired up in order to stay warm through the night. They emerged from their holes in the morning very black from the oil smoke.
A short clipping from the Hood River News in 1951 reported that HRHS's track star was running again, this time to outdistance a mortar aimed at his position. When it landed, it proved to be a dud, but this was not known to Chuck as he was sprinting.
After returning from the service, Chuck met a young first-year teacher. He kept asking her for a date and persisted until she finally said yes. He married Frances Meyer four months later.
Chuck's first working career was working for AGA in data processing. He wanted to return to his roots as a fruit grower, so he and Frances were able to buy a small 16 acre piece and grow pears, apples and cherries, wondering if they would be able to make the $75 monthly mortgage. They remodeled an old shop building into their home, which he lived in for the rest of his life. For a few years, he also leased three other orchards to make a go of it. He went back to work for the AGA, which had become Diamond Fruit Growers, working swing shift as a forklift driver. He was eventually promoted to warehouse manager. His favorite career was a truck driver for Luhr Jensen for almost 20 years.
In his retirement years, he enjoyed traveling, golfing and his family, especially his grandchildren. A couple of summers ago, he shot three holes-in-one, and he was looking forward to doing that again soon, especially if he could play with his sons.
He is survived by Frances, his wife of 62 years, and sons Sam (Isa), Glen (Donna), and Lee (Pam); grandchildren John, Matt (Claire), Maria, Kylie (Shawn), Audra, Katlin and Makenzie; and two great-granddaughters, Honey and Hailee. Chuck's brother Jim Cody (Sally) resides in Ontario, Ore., and his sister Frances Crown in Hood River. Many nephews, nieces and cousins also survive him.
The family will host a memorial gathering in June.