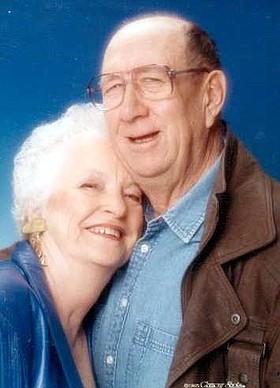 Nola Marcheta Nolin
August 4, 1927 - January 1, 2016
Nola Marcheta Nolin, 88, died at Community Hospice in Vancouver, Wash., on Jan. 1, 2016. The cause was complications of old age, or as Nola put it: "I'm at the end of my rope." Her four children and several of her grandchildren were by her side.
Nola was born on Aug. 4, 1927, in Glyndon, Minn., to Edna Louise Hanson and Harold Vernon Jepson. She attended public schools in Baudette, Minn., graduating from Baudette High School in 1945.
Nola Marcheta Jepson married Joseph Augustine Jerome Nolin in 1946, in Hawley, Minn., when she was 19 years old.
Nola and Jerome came west to Cascade Locks, Ore., in 1957. With them were their four children, yet surviving; Lina Grace and husband, Jim, of Kelso, Wash., Joseph Nolin and wife, Sharon, of Gilchrist, Ore., Nicki Chambers and husband, Rod, of Banks, Ore., and Phil Nolin and wife, Donna, of Cascade Locks. There are 11 grandchildren and 14 great-grandchildren. Nola is also survived by her younger sister, Leila Mae Naucler, of Rutland, Vt., and her children Mitzi, Lori, Shari and Scott.
Nola was preceded in death in 1998 by her husband of 52 years, Jerome. Nola and Jerome spent many vacations on the road with their trailer exploring the nation's wonders, one of their favorite pastimes. That and surprising their children with unannounced visits.
If you knew Nola, you knew of her love of animals and her many Dachshunds and Rottweilers. She most always had a dog biscuit ready in her pocket for the chance of meeting a new friend. Nola was a longtime member of the Cascade Locks Community Church and Lions Club. Many of her years in the Gorge were spent delivering the mail as the local contract carrier. The high point of her public service was her time spent on the city council (1967-70) and as mayor of Cascade Locks (1985-86). She was widely known by the community for her diligent service.
Nola was also known as an avid collector of antique glassware – once seen going into a dumpster after a dish tossed by an unknowing family member. She loved the Columbia River Gorge and was an enthusiastic collector and reader of Gorge history. She also enjoyed the challenge of crossword puzzles; still working the daily shortly before her passing.
A memorial service will be held at 2 p.m. Jan. 17 at the Cascade Locks Bible Fellowship, 550 N.W. Forest Lane. Relatives and friends are welcome.
In lieu of flowers, memorial contributions are welcome at Oregon Humane Society at oregonhumane.org or Oregon and SW Washington Susan G. Komen, Race for the Cure, at http://komenoregon.org/.
Thanks to staff and many friends at the Cascade Inn Independent and Assisted Living Facility in Vancouver and the "Community Home, Health and Hospice" for their caring help and support.