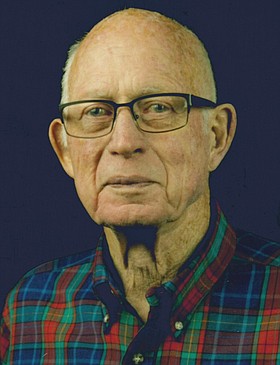 James "JP" Mallon
July 27, 1929 - January 5, 2016
James "JP" Mallon passed away in Portland, Ore., on Jan. 5, 2016. He is survived by Shirley Mallon, his wife of 64 years, his brother Richard, his son Terry and his wife Ellen Bernards-Mallon, his son Cary and his wife Carol Cohen, his daughter Tami Mallon Hukari and her husband Brian Hukari, his son Craig and his wife Marie, 11 grandchildren and three great-grandchildren. He was born in Portland, Ore., on July 27, 1929.
A funeral service will be held at 2 p.m. on Friday, Jan. 15, at St. Mark's Church in Hood River. In lieu of sending flowers, the family asks that donations be directed to: Opportunity Campaign, Hood River Education Foundation, 1009 Eugene St., Hood River, OR 97031. The fund seeks to help needy children participate in organized sports.
Jim was an outdoor enthusiast. He enjoyed hunting, fishing, hiking, and camping with friends and family. A favorite deer hunting destination was Gilman Flat, south of Heppner. He took his sons on adventurous chukar hunts up and down eastern Oregon canyons and duck hunts along the Columbia River and near Frenchglen. A multifamily activity was digging razor clams on Oregon and Washington beaches. He and some hunting buddies sought elk near Anthony Lakes and once took a trip to Canada to bring home a moose. It is telling that after a heart attack and under the influence of anesthesia he made up new hunting stories we hadn't heard before.
Jim's spirit of adventure spilled over into his parenting. He took the family on many trips of adventure that sometimes stretched our capabilities. We had a couple of backpacking trips to the Eagle Cap Wilderness. One was boys-only and another was co-ed. On the boys trip the crew ran afoul of a mother bear whose cub was scared up a tree. On the co-ed trip the girls were challenged to stay in ice cold mountain water for as long as they dared. After deciding to abort a hiking trip in the Sawtooth range in Idaho after two days of torrential rains, a creek swollen by those rains became a harrowing barrier. Not to worry, somehow Jim managed to get his boys safely across.
The adventures were not confined to the family. Boy Scout Troop 382 convinced him to become a Scoutmaster. During those years he was affectionately dubbed "JP" by the boys and pioneered several remarkable trips. There were two canoe trips that traversed the Owyhee reservoir in southeast Oregon. On one of the trips JP had to break into a private cabin so the scouts could dry out from the flash flood that swept through their camp. The Scouts also backpacked in the Minam basin of the Eagle Cap Wilderness and the Goat Rocks area of the Washington Cascades. The troop also made many trips to Scout summer camps and shorter training hikes.
During their retired years Jim and Shirley enjoyed travel and seeking their families' roots. With a group of friends they visited several destinations in Europe and Mexico. Motorhome adventures took them to Alaska and New England. For Jim, the genealogy trace ended in Sweden.
Besides outdoor adventures Jim enjoyed spectating and participating in organized sports. He took his boys to many football, baseball, and basketball games and track and field events. The trip to the 1984 Olympic Games in Los Angeles produced some good stories. Jim always promoted participation in sports for his children. The boys played baseball, football, basketball, ran track, swam, golfed and skied. Tami swam and skied. Jim coached the high school football team at Heppner. Late in life Jim enjoyed being part of a racquetball group that met at the Elks Club.
Professionally, Jim's two careers overlapped. After teaching and coaching in various rural Oregon communities Jim came to Hood River in 1960 as the principal at May Street School which then housed grades 5-8. At the outset of the 1970-71 school year Jim moved to the Hood River Junior High as the principal there. When school began that year Jim had a building whose upper floor was gutted and several classes shared the divided up gym floor. Those challenges and a strong contingent of rookie teachers made that a memorable year. While Jim was principal there the multipurpose room was built to accommodate lunch service and athletics. He directed the rebuilding of the bleachers overlooking the football field and track.
In 1974 Jim and Shirley purchased orchard property and a home in the Willow Flat area. While Jim continued in education until his retirement in 1984 the boys had employment opportunities as farm hands. The size of the property varied over the years and he was involved with the farming as recently as 2012. Farmers don't meet the public as frequently as school principals but I heard this compliment from a neighboring orchardist that I considered high praise. He said that a lot of folks buy orchards and don't really know what to do with them, "but your old man is a farmer." In the 1990s Shirley organized a "Tuesday Club" of grandchildren visiting the farm once a week during the summers. Of course, Jim was in charge of the physical education piece.
Jim was gregarious man who always tried to make the world around him better. This was true in his educational career, in scouting, his stints with the Rotary Club and as president of the Chamber of Commerce. On a personal level he and Shirley built two of the homes they lived in and Jim had three generations of Mallons involved in the raising of a barn at the Hilltop Ranch.
We're very proud of the way Jim lived. He always kept his chin up and encouraged the best in those around him. His presence was felt in many venues. He was a spirited competitor and compassionate educator. He's left us with many stories to tell and most of them will make us smile.
Arrangements are under the direction of Anderson's Tribute Center (Funerals, Receptions, Cremations), 1401 Belmont Ave., Hood River, OR 97031; 541-386-1000. Please visit andersonstributecenter.com to leave a note of condolence for the family.

Condolences are being received online.