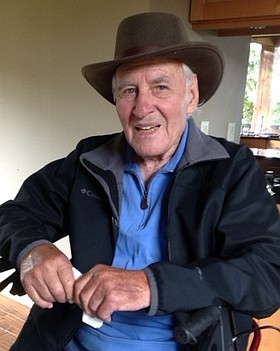 John Richard Bucher
August 15, 1915 - January 7, 2016

On Jan. 7, 2016, after 100-plus years, John Richard Bucher slipped into our memory, ending an era. As a numbers man, "Gramps" chose the 7th as his birthday present to his wife, and our mother.
Dad was born Aug. 15, 1915, to Grace Gretta Winkler and Charles Franklin Bucher in New Martinsville, West Virginia. He was preceded in death by his wife, Beulah, daughter Gerrie, and his sisters, Louise B. Olson and Betty Bucher Leach, his brother Henry Castilow, and his son-in-law, Jonathan Sweet.
Dad was a convert to the Mormon Church. He came to Brigham Young University in September 1935. There, John studied journalism, accounting, and business, and played football and basketball. He loved fishing and swimming. He was very active in church callings as a missionary while at school.
That same year, he met his future wife, Beulah Sowards, and they dated steadily for the next two years until they married in the Salt Lake LDS Temple on Dec. 16, 1937, by President David O. McKay.
In 1940, Dad worked for the Army Corps of Engineers in the War Department. First, in Sacramento, Calif., as an accountant for the war effort to protect the West Coast in the building of airfields, hospitals and munitions facilities. In 1942, he was transferred to Salt Lake City, where he worked for the War Department Service Command. He later worked for Pete Harmon as the auditor for Kentucky Fried Chicken and other businesses and restaurants.
During the last three years of his life, he lived in the Pacific Northwest with his daughter Jan, and her family, and at Hawks Ridge Assisted Living, where he was wonderfully cared for by the staff of Hawks Ridge. His private caregivers were his daughter, Jan Carmichael, Dee Dee Vallier, Kara Krenz and Kim Chinnock. We would like to extend a special thank you to his caregivers.
Dad had four children: Gerrie Ann Bucher (deceased), John Richard Bucher II, Jyll Sweet, Jan Carmichael and her husband, Jepson West, including five grandchildren, Rich (Mailei) Bucher, Mark Bucher, Elizabeth Bucher, Samuel Sweet and Noah Carmichael, and three great-grandchildren, Kilea Sorelle, Jacob and Katherine Grace.
He is survived by a loving extended family consisting of Ann L. Miller, Gretta L. Bierly, Carter and Ann Castilow, Susan H. Chamberlain, and Jean H. Bucher. He is also survived by his closest and most loving friends, Jody During and Arthene Goe.
Dad loved God, his family, and others more than himself, which was how he lived his life. He worked hard his whole life, and supported his family in everything they wanted to do, or accomplish.
Graveside services will be held at East Lawn Memorial Cemetery at 4800 East Lawn Drive, Provo, Utah, on Feb. 13 at 2 p.m.
Condolences may be offered to the family online at walkersanderson.com.

Condolences are being received online.