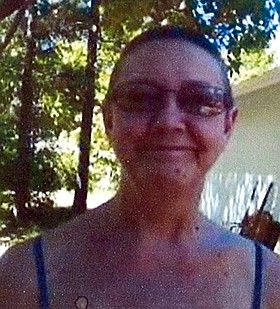 Bonnie Lynne Johnson
August 23, 1954 - December 27, 2015
Bonnie Lynne Johnson, 61, of Cave Junction, Ore., died Sunday, Dec. 27, 2015, at Rogue Regional Medical Center in Medford, Ore., after a long battle with cancer.
Bonnie was born Aug. 23, 1954, in Hood River, Ore. On Oct. 7, 2006, in Turlock, Calif., she married Edward Johnson. In 2012, they moved from Modesto, Calif., to Cave Junction.
Bonnie's hobbies included golfing and refinishing old furniture.
Survivors include her husband, Edward Johnson; son, Dustin Hakala, of Portland, Ore.; sister and brother-in-law, Barb and Hal Hausinger, of Parkdale, Ore.; brother and sister-in-law, Mike and Leanna Hakala, of Gresham, Ore.; stepchildren James Matt, Mark and Nichole, all of Modesto; grandchildren Cierra, of Seaside, Ore., and Taydn, of Portland, Ore.; and numerous nephews in Oregon.
Preceding her in death were her parents, William and Lorene Hakala; and a brother, Bill Hakala.
No services are planned.