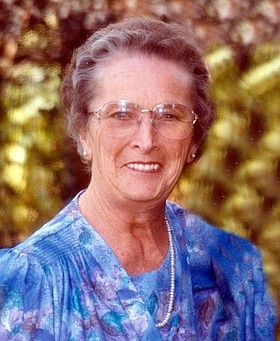 Elaine Marie Huskey
April 5, 1934 - January 14, 2016
Longtime Mosier resident Elaine Marie (Herman) Huskey passed away Thursday, Jan. 14, 2016, at home, in the presence of family and friends.
Elaine, next-to-the-youngest of eight children born to Frank and Maggie (Partin) Herman, was born in Antlers, Okla., April 5, 1934. Elaine's early education started in Antlers before the family moved to the Northwest, landing in Jefferson, Ore., then moving to the Hood River Valley before finally settling in the Mosier Valley in the early 1940s.
Elaine attended Mosier School, graduating from Mosier High School class of 1952.
Elaine was a cheerleader in high school and participated in many school activities: girl chorus, class president, dramatics, annual staff, magnet staff, GAA, FHA, secretary of class; and since has enjoyed attending the annual Mosier Alumni banquets.
The only high school distraction from her studies was her "squeeze," "Delly," who became her best friend and lifetime partner.
Elaine and Delbert Huskey were married Oct. 14, 1950, while Elaine was a junior in high school.
Right after Elaine's graduation from high school, oldest son, Delbert "Thump," was born in June of 1952 while they resided on the Moore/Ben Veatch place on Dry Creek.
In 1953 they moved to Huskey Hill. After the birth of Dwight, neighbor Frank Hamilton built Delly and Elaine's home in 1954 where the Huskeys have resided ever since.
Siblings Donita, Robert and Larry (twins) and baby sister Terrie joined the family as the Huskeys settled into their new home, raising their family, and where many lasting fond cherished memories have been made.
This past October, Elaine and Delbert celebrated their 65th wedding anniversary.
Elaine was a stay-at-home mom, raising her young family and raising and processing a large garden every year, not letting anything go to waste.
After the retirement of her mother, Maggie Herman, cook at the Mosier School, Elaine took on the role as head cook and bottle washer at the Mosier School for the next 26 years where she excelled in her cooking skills, sharing homemade rolls and cinnamon rolls, beef and noodles, homemade soups, wiener wraps, pizza, never letting a hungry stomach go unfed. Back in Mom's early cooking days at the Mosier School, she believed no child could learn without a good nutritious breakfast. Any adult fellow worker requesting a breakfast for a hungry child, received Elaine's undivided attention feeding the child.
Many wonderful salads, fresh vegetables, and homemade treats coming from Elaine's home were enjoyed by fellow co-workers and drop-in guests at the Mosier School.
Elaine retired from her school duties in 1988.
Elaine's spare time and relaxation was the enjoyment she received from all the flowers in her beautiful yard, produce from her garden, picnics to the back hills of Mosier sharing a wonderful lunch consisting of pan-fried chicken, homemade potato salad, pineapple upside-down cake, fruits and vegetables with family and friends.
Elaine's greatest passion was anything "Delly." Elaine's presence and everyday involvement will be greatly missed.
Elaine is survived by her husband, Delbert, of Mosier; daughters Donita Huskey-Wilson of Mosier and Terrie Methvin and her husband, Gary, of The Dalles; sons Delbert Jr. (Thump) and his wife, Brenda, of Mosier, Dwight and his wife, Yvonne, of Mosier, and Robert and his wife, Heidi, of Parkdale; grandchildren Danny, Andy, Sara, Elijah, Bobbie Jo, Karrie, Krissy, Larry Jr., Addam, Jeremy, SaVanna and Shay, Paul, MaKenzi, Tobin, Pete, Mychal; 30 great-grandchildren with three on the way; brother LeeRoy Herman and his wife, Jane, of Mosier; sister Neoma Richmond, of Gresham; numerous brothers- and sisters-in-law, nieces, nephews, cousins, extended family and friends and special friend Nancy Holaday, in Antlers, Okla.
Elaine was preceded in death by son Larry David Huskey; grandson Ike Huskey; son-in-law Grant Wilson; brothers Hugh, Artle, Gerald, Jay and J.C.; and parents, Frank and Maggie Herman.
At family's request, for those wishing to do so, memorial donations to the Mosier Grange would be greatly appreciated. Please mail them to Anderson's Tribute Center.
Services are planned for 11 a.m. Saturday, Jan. 23, at Anderson's Tribute Center. Graveside rites will follow at the Mosier Cemetery. A time of viewing is planned for Friday, Jan. 22, from 9 a.m. to 4 p.m. also at Anderson's.
A very special heartfelt thank you to Heart of Hospice, whose services allowed Elaine to be at home with family when she passed.
Arrangements are under the direction of Anderson's Tribute Center (Funerals • Receptions • Cremations) 1401 Belmont Ave., Hood River, OR 97031; 541-386-1000. Please visit andersonstributecenter.com to leave a note of condolence for the family.

Condolences are being received online.