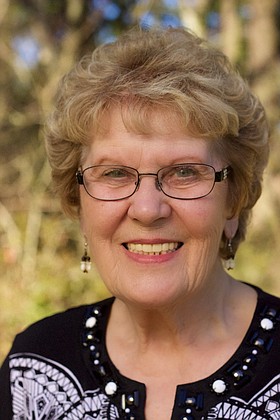 Sylvia Yvonne Bisping
November 15, 1934 - January 4, 2016
On Jan. 4, 2016, Sylvia Yvonne Bisping went to be with the Lord, where she will be able to see her husband Ray again, as well as numerous other family members, close and dearly loved friends. After successfully beating breast cancer years ago, she succumbed to an aggressive abdominal cancer.
Yvonne was the only child of James and Sylvia Irene Neely, and was born in Grants Pass, Ore. As a child, due to her father's occupation, the family moved frequently and lived in various towns in Oregon and Montana. Yvonne even attended one school in the fall as a child, moved away and attended another school and returned to finish the school year in the spring at the original school.
She was in the last graduating class of Wy'east High School in Hood River, Ore. She attended college and ultimately worked for Standard Oil Company (Chevron) in Spokane, Wash. It was there that she met her husband, Ray Bisping. They were married Jan. 2, 1958, in The Dalles, Ore. They remained in Spokane for about eight years, having two of their daughters, Dena-Rae and Cindi, and after being transferred to Portland, Ore., by Standard Oil, she had their third child, Joy.
Yvonne worked for several attorneys' offices over the years and was very active in her church, where she was often the church pianist. She loved to knit, spend time with her friends and was involved in the "Red Hat Society."
Several years after Ray's death in 2000, Yvonne began seeing another former Standard Oil employee and friend, Hal Voelkle, and they remained together until her death. They would share time between his ranch in Rupert, Idaho, and her home in Aloha, Ore. In Idaho, the two would pick and can all sorts of fruits, vegetables, jams and make some fantastic spaghetti sauce!
Yvonne is survived by her very much-loved boyfriend, Hal Voelkle; and her daughters: Dena-Rae Martin and her husband, Dennis Kleffner, Cindi Strickland and her husband, Rocky, and Joy Cavinta and her fiancé, Bob Plumley; as well as three grandsons: Josh, Ryan and Luke.
A Celebration of Life will be held Saturday, Feb. 6, at 3 p.m. at Harvest Community Church, 21235 N.W. Quatama Road, Beaverton, OR 97006. Due to the winter snow at the Entiat Cemetery, located outside Wenatchee, Wash., where the Bisping family plot is located, Yvonne will be buried this summer, next to Ray. Please refer to peggpaxsonspringerfuneralhome.com for any updates and to sign the online guestbook.

Condolences are being received online.