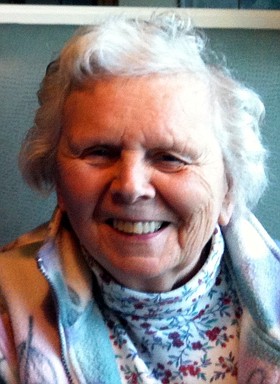 Joan Lorraine Davis
September 3, 1927 - January 23, 2016
Joan Lorraine Davis, native to New York, and a resident of Oregon for almost 50 years, died of age-related causes in Portland, Ore., on Jan. 23, 2016.
She was born in Queens, N.Y., on Sept. 3, 1927, to John and Augusta Worley (nee Pommerencke) and spent her early years growing up in the greater New York City area. A bout with rheumatic fever in her early years caused permanent heart damage, and also caused her to fall behind in school, but she was able to eventually skip a grade and graduated from Hempstead (Long Island) High School at age 17. She worked as a secretary at the Doubleday Company for four years (earning $25/week), enjoyed long bicycling trips with close friends, and then completed a three-year nursing program at Methodist Hospital in Brooklyn in 1952.
In 1953, she was inducted into the Army Nurse Corps, which took her first to Fort Sam Houston in Texas and then Letterman Hospital in San Francisco's Presidio. She was honorably discharged in 1955 and then enrolled at UC Berkeley and worked at Alta Bates Hospital in Oakland.
Mutual friends introduced her to Carroll Davis, and they married in January 1957. Their first child, Nancy, was born in late 1957. The family grew again when almost-newborn Robert was adopted in 1962. All lived in the East Bay until 1966, when the move was made to Hood River so that Carroll could take the new biology teacher position at Hood River High School (pre-merger with Wy'east).
The first years in Hood River were an adjustment to small town/rural life (the big farmhouse on Eastside Road), rescuing stray animals (life-long hobby) backpacking/canoeing/climbing trips with her husband, school activities, and volunteering for kids' activities (including nurse/counselor at Camp Yallani). She played piano at home and sang in the Asbury Methodist Church choir (including some time in the late 1990s). As the kids grew, the whole family went on longer vacations, typically in the outdoors. Lorrie and Carroll were proud precinct chairmen for McGovern campaign in 1972. She enjoyed learning Oregon Trail history and dominating the Scrabble board.
Lorrie kept her nursing license active and worked part-time (including many hours of on-call service) at the old Hood River Hospital. When her son entered junior high, she returned to full-time work at the hospital, mostly as a surgical scrub nurse. This lasted into the late 1980s, when she transitioned to working as health officer for Hood River County Head Start in Pine Grove.
Throughout these years, Lorrie was primary caregiver for her mother, who spent her last years at the family home, and then her stepfather, who lived on Eastside Road in the late '70s/early '80s. Lorrie's daughter, Nancy, contracted malignant multiple sclerosis in 1982 and Lorrie and Carroll spent many years visiting Nancy in a Portland nursing home, bringing her home many weekends and advocating for her care. Nancy passed away in 2009.
Amidst family responsibilities, Lorrie was able to enjoy time with friends and foreign and domestic travel throughout the 1990s; she especially savored time on the Mississippi (sternwheeler cruises).
Lorrie started experiencing memory loss after about 2005. She was able to continue living in Hood River with the assistance of her husband. In the last two years, following death of her husband, she lived with her son and daughter-in-law in Portland and then in assisted living. Her short-term memory continued to erode ... but she was able to recognize her family and enjoy a joke until the end.
Lorrie is survived by her son, Bob, daughter-in-law Jane Pagliarulo, and granddaughter, Marina Davis.
Donations in her name may be made to Mercy Corps or Alzheimer's Association, Oregon Chapter.
Services are planned for 3:00 p.m., Saturday, January 30, 2016 at Anderson's Tribute Center (Funerals • Receptions • Cremations), 1401 Belmont Ave., Hood River, OR 97031; 541-386-1000. Please visit andersonstributecenter.com to leave a note of condolence for the family.

Condolences are being received online.