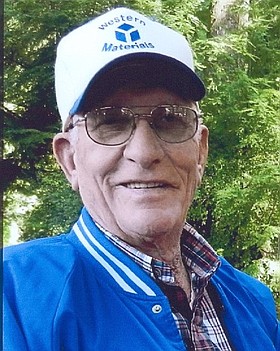 Ellis "Pete" Wilson Tanner
Hood River
July 14, 1914 - June 26, 2016
Ellis Wilson "Pete" Tanner passed away June 26, 2016, at his home in Hood River, Ore., where Pete had resided for the past 65 years, farming and being the keeper and caregiver of his land. Pete was one of five children born to Joseph Melvin "Joe" Tanner and Mary Mamie "Mae" (Brace) Tanner in Fargo, N.D., on July 14, 1918. Pete was 97 years of age, 18 days shy of his 98th birthday.
Pete was raised and schooled in Fargo until September of 1937, when the family, nearly all grown, journeyed a long trip west on a flatbed truck traveling 15 to 20 miles per hour.
Upon arrival in the Hood River Valley, Pete went to work in the fruit orchards, harvesting crops. Pete's first job outside of the fruit industry was truck driving, hauling ice cream, milk and feed product from Portland to Hood River, by way of the old winding highway, for Mayflower Farms. Other jobs Pete held over the years were driving a school bus, Hood River Bottling Works, and Jim Sherrell Distributors in The Dalles, ending his working career at for Mid-Columbia Distributors in Hood River. Pete was a lifetime cowboy and raised horses, cows and pigs, grew hay, and farmed the land when not working out.
Pete served in the United States Navy in 1944 and was Honorably Discharged at the end of 1945 during World War II. After the Navy, Pete contracted T.B. and was treated at the Veterans Hospital in Portland for an 18 month stint.
Pete met and married Maudenne Hagen in November of 1939. They had four children, Alice, Rita, Ronald and Donald. They were later divorced.
Pete was a longtime member of the Hood River Saddle Club, Hood River Elks, American Legion, Moose and Eagles organizations. After retiring from working but not farming, Pete and his companion, Betty Bjerke, traveled the United States, enjoying each other's companionship and joined the snow birds in the winters, traveling to Arizona and Mexico until Betty's passing in 2013.
Pete is survived by daughters Alice Pierson and her husband Roger of Hood River, and Rita Stevenson of Hood River, sons Ronald Tanner of Portland and Donald Tanner of Hood River, and five grandchildren and seven great grandchildren.
Memorials are encouraged to be made in Pete's name to Hood River Saddle Club.
The family gives thanks and appreciation for the helpful hands and care givers of "Hearts of Gold."
Services for Pete will be at 11 a.m. on Saturday, July 9 at Anderson's Tribute Center, 1401 Belmont Ave., Hood River. Pete's service will be led by celebrant speaker Bob Huskey, with Military Honors rendered by the United States Navy, and fraternal rites by the Hood River Elks Lodge. Private graveside rites will take place at Idlewilde Cemetery.
Arrangements are under the direction of Anderson's Tribute Center (Funerals • Receptions • Cremations). Please visit AndersonsTributeCenter.com to leave a note of condolence for the family.
Services for Ellis Wilson Tanner
July 9, 2016

Funeral: 11 a.m.
Anderson's Tribute Center, 1401 Belmont Ave., Hood River.