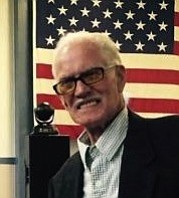 Jesus "Jesse" Lopez
August 28, 1934 - July 8, 2016
Jesus "Jesse" Lopez, 81, of The Dalles, Ore., peacefully went to be with his Lord and Savior Friday afternoon, July 8, 2016. His wife, Sharon, and many of his close family members were at his side.
Jesse was born Aug. 28, 1934, in Milpitas, Calif. He was the first son and the fifth of 12 children born to Elisao and Enedina Lopez (both deceased). He spent the majority of his childhood and teenage years growing up in the San Jose area of Northern California. It was during his youth that he developed his lifelong love for the sport of boxing. You could always find a speed bag and a heavy punching bag in his garage or patio. Boxing gloves and jump ropes were part of the "furniture" everywhere he lived and were only replaced by golf paraphernalia in his later years. His other love in his teen years was his relationship with fast cars. Jesse always made it a point to have a car that he and his buddies could cruise in and even if it didn't run smooth, those rides always looked good.
His fast driving and hard punching eventually led to some strained relationships with some of the San Jose Police Department, so Jesse moved to Sacramento, Calif., to get a fresh start. He found a steady job working in a turkey hatchery in the Sacramento Valley and began raising a family. Eventually he would move back to San Jose, take a job driving truck for one of the big bakeries, buy a house and begin coaching boxing in the San Jose Police Athletic League (PAL). His love for the sport was infectious and kids learned "the sweet science" from a tenacious yet loving coach. During his coaching career, he also coached football, baseball, softball, judo, and any other sport that his kids and their friends were involved in.
On May 16, 1956, Jesse met a young lady that he couldn't take his eyes off of. Sharon Ann Morton proved that she was more than a match for the suave Mr. Lopez and she captured his heart. On March 20, 1959, he married the love of his life and they recently celebrated their 57th wedding anniversary. Jesse was blessed with four children from an earlier relationship: Vickie (Brager-Hannagan), Gary Lopez, Richard Lopez, and Nadine (Ash). He and Sharon were also blessed with the addition of three more children: Tina (Corr), Anita (Carothers) and Jesse Lopez Jr. His seven children would later grow the family with 21 grandchildren whom he has loved beyond measure. To this number add 17 great grandchildren and you have a man with tons of love … and no spare change.
In 1977, Jesse moved the family from California to Hood River, Ore., and he took a job working in his younger brother David's paving business, Lopez Paving Inc. While in Hood River, he started the Hood River Boxing Club, which occupied the basement of the current Hood River Hotel on the corner of First and Oak streets. Under Jesse's direction, Hood River Boxing Club competed at an elite level and developed numerous state, regional and national champions. With Coaches Gil Clarke and Mag Campbell, they inspired some of the best boxers in the Gorge with DeWayne "Dewey" Messenger, Freddy and Al Dominguez, John Harvey, Kyle Riffe, and Rodney Roth (White Salmon).
Among his best pupils was his son Jesse Jr., whom he began training in 1975. "Little Jess" won four Oregon Golden Glove State Championships (1980-83) and two National Golden Glove Titles (1982 and 1983). Jesse moved to Eugene in 1982 and coached at the Eugene Boxing Club until 1987. During his time in Eugene, he also started OX Boxing Professional Club and coached professional fighters until 1991. While training his son, he also worked with Pat Jefferson, George Evans, Willie Montana, and Ty Merrill. When Jesse started managing his son's professional career, he and Sharon moved to Reno to be closer to the fight action. Jesse Jr. had made it to the No. 3 spot on the U.S. Olympic Team in 1984 and as a professional he reached the No. 3 spot as a JR Welterweight. In 1985-1988, Hood River was proud to see Jesse Jr. fighting on ESPN with Jesse Sr. in his corner.
Jesse and Sharon remained in Reno until 1991 and eventually settled in Lebanon, Ore., to be near their grandchildren. They moved to The Dalles in 2008 for Jesse's health and to be close to daughter Anita and granddaughter Jessaka. Jesse and Sharon enjoyed going on cruises to the Mexican Rivera with the Lopez clan and spending time with family and friends in Las Vegas and Maui. They both enjoyed drinking coffee in the morning at Shari's in Hood River and playing Keno. Jesse especially loved playing golf on Friday afternoons at the Hood River Golf Course with his brother David and nephew Eleazar Reyes. Most recently Jesse, Sharon, daughter Vickie and son Jesse Jr. were baptized in a beautiful family ceremony at New Life Church in Henderson, Nev., with 20 family members present.
He was preceded in death by his parents, sister Velia Lopez, brother Feliziano Alvarado, brother Johnny Alvarado and son-in-law Tony Carothers.
Jesse's infectious smile and hearty laugh will be missed by a host of folks. He leaves behind his soulmate and chief referee of 57 years, Sharon; children Vickie (and Brad) Brager-Hannagan, of Las Vegas, Nev., Gary (and Vickie) Lopez, of Holister, Calif., Richard (and Chris) Lopez, of Tracey, Calif., Nadine (and John) Ash, of Bend, Ore., Tina (and Tom) Corr, of Lebanon, Ore., Anita Carothers, of The Dalles, Ore., and Jesse (and Stacey) Lopez Jr., of Kihei, Hawaii; sisters Mary Santiago, of San Diego, Calif., Rosie Varra, of Lathrop, Calif., Carmen Vasquez, of Pleasanton, Calif., Annie (and Ray) Mata, of Modesto, Calif., and Jenny Gallardo, of Hood River; brothers Joe (and Rose) Lopez, of San Jose, Calif., David (and Jan) Lopez, of Salem, Ore., and Benny Alvarado, of Gilroy, Calif.; grandchildren JJ Hannagan, Brad Hannagan Jr., Christopher Lopez, Gary Lopez Jr., Mercedes Dreher, Malida Lopez, Chelcia Lopez, Savannah Brown, Sierra Whitney, Jessaka Shroy, Josh Shroy, Nicole Wright, Justin Carothers, Tony Carothers, Felicia Lopez, Chewey Lopez, Andrea Roberts, Anthony Lopez, and Julia Lopez; and 17 great grandchildren.
A celebration of Jesse's life gathering took place at Raven's Nest Restaurant at the Hood River Golf Course at 11 a.m. on Saturday, July 9. It was a time of sharing and remembering the stories of the life of a man well loved by his family and friends. He left a lifelong lesson in the value of hard work and persistence with many of the youth in this community and others. He was a treasure to all who knew him.
Condolences for Jesse's family can be sent to Sharon Lopez, 4795 Simonelli Road, The Dalles, OR 97058.