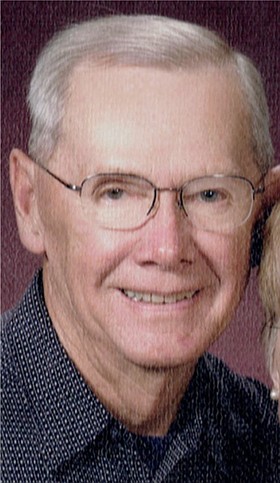 James M. Davis
The Dalles, Ore.
July 12, 1938 - July 12, 2016
James M. Davis of The Dalles, Ore., passed peacefully with his family by his side at the Providence Portland Medical Center on July 12, 2016.
Jim was born Feb. 16, 1938, in Platte, S.D., to John R. and Doris G. (Shepard) Davis. The family moved to Bremerton, Wash., in 1941, where his father worked in the shipyard during World War II. He moved with his family to Hood River in 1946 and graduated from Hood River High School in 1956. Jim entered the U.S. Air Force in 1957 and was stationed at McGuire AFB in New Jersey. After four years of service he attended Portland State.
Jim married Jean Axford in 1961 and they moved to Redmond, Ore., where his children, Jeff and Jennifer joined the family.
Jim started his banking career in 1964 with First National Bank of Oregon, transferring the family to Pendleton and eventually to The Dalles in 1971. He served in several capacities before being named vice president of First Interstate Bank in 1997. He retired in 2000 with 35 years of service in the banking industry.
Jim married Dorothy Rash on July 30, 1988. Together they enjoyed snow-birding in Arizona, fishing, hiking and biking. Jim particularly enjoyed hunting, camping, and fishing with his family.
Jim was a member of First Christian Church of The Dalles, Rotary Club, Ft. Dalles Rodeo Association, and he served many years on the Wasco County Fair Board.
Jim is survived by his wife, Dorothy, of nearly 28 years; his son Jeff (Julie) Davis; daughter Jennifer (Lynn) Basada; and stepsons Stan (Dena) Getz, Steve Getz, and Scott (Serena) Getz. He is also survived by his grandchildren, Jordan (Tiffany) Davis, Janell (Jeff) Hall, Jaime (Brewster) Whitmire, Ellena and Spencer Basada, Shelby and Cadie Getz, Matthew, Curtis and Dillon Getz; and four great-grandchildren, Jace, Parker, Brody and Hunter; and by his sister, Barbara Bandy. He was preceded in death by his parents.
A memorial service will be held on Thursday, July 21 at 11 a.m. at the First Christian Church in The Dalles, 909 Court St., with Mike Wilson officiating; reception to follow, then private graveside services.
In lieu of flowers, donations can be made to First Christian Church or Salvation Army, 623 E. 3rd St., both in The Dalles.
Jim will be immensely missed by family and friends.
Arrangements are under the direction of Anderson's Tribute Center (Funerals • Receptions • Cremations), 1401 Belmont Ave., Hood River.
Please visit AndersonsTributeCenter.com to leave a note of condolence for the family.
Services for James M. Davis
July 21, 2016

Memorial service: 11 a.m.
First Christian Church in The Dalles, 909 Court St.