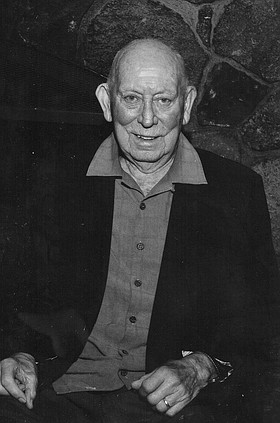 Richard "Norm" Norman Hukari
Hood River, Ore.
November 4, 1925 - July 12, 2016
Richard Norman "Norm" Hukari, a lifelong resident of Hood River County and the grandson of a Finnish farming family who established themselves in Oak Grove early in the 20th century, was born Nov. 4, 1925, and passed away quietly on Tuesday, July 12, 2016. In the months and weeks preceding his death, he was surrounded by his loved ones in the home he'd occupied since purchasing it to accommodate his growing family in 1962 (and which his parents had previously owned). He remained lucid, humorous and only occasionally ornery 'til very near the end of his life, when time took its toll as he slipped into a week-long sleep.
As a youngster, Norm and his older brother Rob completed primary school at the iconic Oak Grove School before attending junior high at the current May Street School, and high school where Hood River Middle School now resides. His childhood days, with his brother and a couple close buddies, were spent swimming in the farmers irrigation ditch, trout fishing in the Hood River, working in the orchard and eventually gaining mountaineering skills taught by his father and a group of men who would become charter members of the now-nationally known Hood River Crag Rats, the first mountain rescue organization in the country. Like his older brother, Norm made his inaugural climb up Mount Hood at age 12, and would go on to summit his home mountain 53 times, along with scaling all the other Northwest peaks required to achieve lifetime membership in the club. He was proud of outdoing his brother by one mountain, adding Mount Shasta to his list of bagged peaks.
Norm finished high school early to sign up for the Navy, not wishing to be drafted into the Army. He attended "boot" at Camp Waldron, Farragut U.S. Naval Station on Lake Pend Oreille in Idaho. Basic training was in Norman, Okla., where he spent most of his time as a mechanic, building and repairing planes (already mechanically inclined, here he would gain an early and enduring fascination with airplanes and flight), followed by gunnery training on Whidbey Island. He applied three times for naval duty, finally receiving an assignment on an aircraft carrier out of Seattle, only to be pulled away for two weeks' emergency leave to help with harvest at home. Before his honorable discharge as an Aviation Machinist Mate and aerial gunner, he was offered a promotion if he wished to transfer to an atomic bomb test site, which he wisely declined.
Attending college at Oregon State on the G.I. Bill, Norm graduated with a degree in agricultural engineering. The G.I. Bill also paid for flight training, enabling him to earn his pilot's license and spend a good bit of time circling the state when he wasn't studying. Within two years of graduation, he was happily married, settling back in Hood River on the farm, ready to start a family. The brotherhood of the Crag Rats would become an essential part of his life in these years, not only as a climber and volunteer rescuer, but as a family man, with wives and kids accompanying their Crag Rat husbands, fathers and brothers on outings, campouts, picnics, ski trips and celebrations that bound them as a tight community. As would be true of Hukari Orchards, the Crag Rats also became a three-generation tradition: Norm's father, W.T. Hukari, was a founding member of the Crag Rats and started the orchard in Hood River with his brother Arvo after their immigrant parents relocated the family to the Northwest from North Dakota. Like their father and uncle, Norm and his brother retired and sold their orchard to Norm's two sons, who still operate Hukari Orchards, and are both actively involved in the Crag Rats. With their dad, they made their first climbs around the same age as he had done with their grandfather.
Norm was active with the West Side Fire Department for years, having volunteered prior to college and continuing on afterwards. He served with the inaugural Mt. Hood Meadows Ski Patrol (which afforded him passes for his family of six, so all four kids were able to learn how to ski first at Cooper Spur and then at the new Meadows ski area). He served many years on Diamond Fruit Growers' Board of Directors, including a term as chairman of the board.
Golfing, boating and traveling were his main forms of recreation once he retired from farming. Losing his first love to breast cancer in 1983 was a devastating blow, but he rallied throughout a solo decade before encountering the good fortune to find romance, love and partnership for a second time. Married 20 years, Norm and Patty enjoyed the kind of devoted companionship that perhaps can only be appreciated by two souls who've endured the loss of their first mates.
The 1942 U.S. Naval Station booklet from Farragut declared: "Navy men — must be fighting men — with a fighting spirit. The foundations of the Navy are based on honor and integrity, discipline and obedience; and, while you are a Navy man, it is your duty to live up to the Navy's traditions by your every act." This is a fair summation of Norm's upbringing and demeanor as a Finn, a farmer, a mountaineer and Crag Rat, a Navy man, husband, friend and father.
Norm was preceded in death by his parents, William Toivo and Esther Lindgren Hukari, first wife DeLores (Dodie), son-in-law Mike Puddy, and brother Rob. He is survived by his wife Patty Price Hukari; children Brian, Cheryl, Bruce and Teresa; daughter-in-law Tami; and grandchildren Fletcher, Sarah, Kate and Jackson; as well as three sons and daughters-in-law on Patty's side, plus two step-grandchildren, a grandson-in-law, and a great-granddaughter.
A celebration of life will be held in his honor on Sunday, September 25 at the Crag Rat Hut in Pine Grove.
In lieu of flowers, donations may be made to the Crag Rats, PO Box 1159, Hood River, OR 97031.
Services for Richard Norman Hukari
September 25, 2016

Celebration of Life: 3 p.m.
Crag Rat Hut in Pine Grove