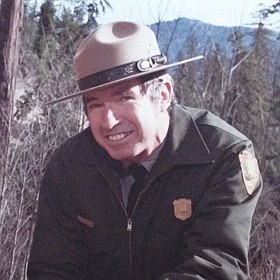 Douglas Gill Warnock
Hood River, Ore.
June 14, 1929 - July 13, 2016
Douglas Gill Warnock passed away on July 13, 2016, in Hood River, Ore. Born in Fresno, Calif., to Helen and Earl Warnock, and brother to Richard and Jeanette, Doug lived an inspiring and historically significant life.
Leaning early toward a career in the National Park Service, with a vision of becoming superintendent of a large western park, he began his career in Yosemite at the age of 15 (fudging his birthday to reach the minimum age requirement of 16). He worked four seasons in Blister rust eradication, on the fire crew and at the park fish hatchery (where ground up, condemned liver and exploded cans of sardines changed his focus from fisheries to biology). He graduated from Fresno State University in 1952 as a biologist and married life-long love and partner, Thelma Ward, in Fresno. He served two years in the United States Army at the end of the Korean conflict.
The fulfillment of the vision of his life and career began when he became a permanent National Park Service employee at Carlsbad Caverns National Park, N.M., as a tour guide, the bottom rung of the career ladder and where his oldest daughter, Karen was born. Moving to Aztec National Monument and then on to Chaco Canyon National Park, he was ranger-of-all-trades, writing and building interpretive signs and displays, assisting in park maintenance and giving campfire ranger talks, as well as welcoming his oldest son David, born on the Navajo Reservation.
Back to Yosemite in 1959 and moving four times within the park, he loved being the Mather District Ranger, patrolling the back country on horseback and snowshoe. Youngest children Darell, Kathy and Kristen were born in Yosemite Valley, where Doug's firm tact and strategic skills kept the peace during the Summer of Love riots.
He was able to engage his love of history when the family moved to Shenandoah National Park, Va., in 1968, where Doug was chief ranger, and then on to Independence National Historic Park, Philadelphia, Pa., in 1972, where, as assistant superintendent during the country's bicentennial, he orchestrated the move of the Liberty Bell and hosted the Queen of England and other national and international dignitaries.
The family then moved on to Santa Fe, New Mexico, in 1977, where Doug was assistant regional director of the Southwest Region. In 1979, it was off to Anchorage, Alaska, when he was handpicked to assist in doubling the size of the National Park Service, as deputy regional director of the Alaska Region, by establishing the new parks signed into existence through the Alaska Lands Act. Fulfilling his original dream, he finished his career as superintendent of Redwood National Park in Crescent City, Calif. In addition to The Queen of England, over the course of his career he met five U.S. Presidents and Lady Bird Johnson.
When not working or moving, Doug loved fishing, hiking, backpacking and instilling in his family a profound connection to the earth and reverence for nature. In retirement, he and Thelma took many Elderhostel trips and shared a particular love for Hawaii. As if he knew all this would be unbelievable, he documented this remarkable life by taking 32,468 slides, categorizing and filing them using the Dewey Decimal system.
After a series of illnesses, Doug died with his wife, daughters and grandchildren around him, while his sons honored him on a rafting trip down the Rogue River. The family is very grateful for the medical and emotional support of Providence Hospice of the Gorge. His spirit set free, he is surely soaring on canyon winds somewhere deep in the wilderness.
He is survived by his wife of 64 and a half years, Thelma Warnock; his five children, Karen Harding (Keith), his primary care-giver David, and Kathy Semmes (Todd), all of Hood River, Darell (Anne Elias) of Trinity River, Calif., and Kristen Hughes (John) of Louisville, KY; as well as his seven grandchildren, Daniel Warnock (Kelley) of Lansing, Mich., Keeley Harding and Kaya Diem (Patrick) of Portland, Ore., Kory Harding of Seattle, Wash., Tia Semmes of Hood River and Brenna Hohmann (Paul) and Leo Hughes of Louisville, Ky.
A celebration of this man and his remarkable life will be held Saturday, July 30 at 10:30 a.m. at Hood River Valley Christian Church.
Arrangements are under the direction of Anderson's Tribute Center (Funerals • Receptions • Cremations), 1401 Belmont Ave., Hood River.
Please visit AndersonsTributeCenter.com to leave a note of condolence for the family.
Services for Douglas Gill Warnock
July 30, 2016

Celebration of Life: 10:30 a.m.
Hood River Valley Christian Church