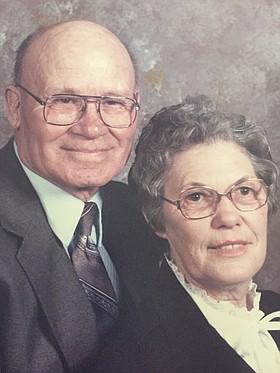 Edwin Marshall and Cleo Inez Modisette
January 20, 1918 - July 16, 2016
Edwin Marshall Modisette was born Jan. 20, 1918, in McAlester, Okla., and passed away July 16, 2016, in Springfield, Ore. Cleo Inez Modisette (Poole) was born April 23, 1926, in Shawnee, Okla., and passed away Dec. 5, 2012, in Springfield, Ore.
Ed and Cleo were married in August of 1972.
Ed was a World War II veteran, serving in the European campaign. Ed was a truck driver most of his life and then he came to Parkdale and bought Fisher's Market. Cleo went to work for Ed and they fell in love and the rest is history. Cleo worked for Diamond Fruit Growers until retirement. They both enjoyed raising large gardens. Their greatest enjoyment was spending time with the grandchildren. When the grandkids moved to Springfield, they soon followed and have lived there since 1988.
They are survived by a son, Tom Akins of Eugene, Ore.; daughter, Beverly Blunck of Springfield; two grandchildren, Bryce Blunck and Shelly Reid; and three great-grandchildren, Jayden, Lathan and Grace. Ed is also survived by three sisters, Beatrice Brawner, Chris Ford and Evelyn Blair. Cleo is survived by one sister, Ethel Swider.
A graveside service will be held for Ed and Cleo at 1 p.m., Saturday, July 23, at the Upper Valley Parkdale Cemetery, 6917 Allen Road, Parkdale.
Arrangements are under the direction of Anderson's Tribute Center (Funerals • Receptions • Cremations), 1401 Belmont Ave., Hood River.
Please visit AndersonsTributeCenter.com to leave a note of condolence for the family.

Services for Edwin Marshall and Cleo Inez Modisette
July 23, 2016

Graveside service: 1 p.m.
Upper Valley Parkdale Cemetery, 6917 Allen Road, Parkdale