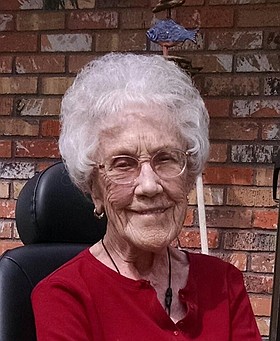 Ada Z. Redlock
Kuna, Idaho
September 16, 1922 - July 16, 2016
Ada Z. Redlock, age 93, passed away peacefully in Kuna, Idaho, on Saturday, July 16, 2016. Born on Sept. 16, 1922, to Addie and Lewis Dewey in Trenton, Neb., Ada was one of 11 children. In 1935, the family relocated to Idaho, where Ada eventually met at married Robert (Bob) Carroll in 1940.
After Bob's return from World War II, the couple raised three kids throughout the Pacific Northwest, and eventually retired in the beautiful Columbia River Gorge. Ada and Bob enjoyed 10 years of small-farm life in Cascade Locks, Ore., until Bob's passing in 1983.
In 1985, Ada reconnected with a former acquaintance, Philip Redlock, and the two were married in 1986. They continued to enjoy their home and community in Cascade Locks until their move to Kuna in 2003. Phil passed away in May 2006.
Ada loved spending her time gardening, she was known for her mastery in the kitchen, and her greatest joy was spending time with her family and friends. She is survived by her brother Kenneth (Tennessee) and sister Mary (Washington); two sons, Richard (California) and Bill (Idaho); eight grandchildren and five great-grandchildren.
Her daughter, Patti, preceded her in death in 1994.
A Celebration of Life will be held on Saturday, July 30 beginning at noon, at Kuna Baptist Church, 1250 N Linder Rd., Kuna, Idaho.
"Don't cry because it's over, smile because it happened."
Services for Ada Z. Redlock
July 30, 2016

Funeral: noon
Kuna Baptist Church, 1250 N Linder Road, Kuna, Idaho