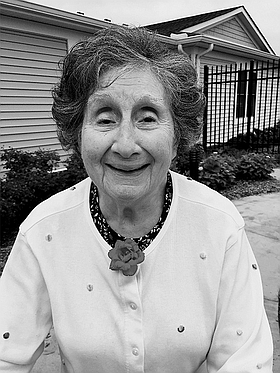 Eleanor J. Heppe
Fredericksburg
June 23, 1927 - July 16, 2016
The remarkable Eleanor J. Heppe, 89, of Fredericksburg, died Saturday, July 16, 2016, at Spring Arbor.
She was born June 23, 1927, in New York City, to Selig Ricklin and Helen (Himmel) Ricklin.
All those that had the pleasure to meet Eleanor would agree that her defining characteristic was love. Whether you were a new acquaintance, an attendee to the Northern Virginia Ethical Society, or a life-long friend, Eleanor would always make you feel that you were the most important person for her to talk with and spend time with.
Always engaging, Eleanor would give out hugs and kisses and make everyone feel included, honored and valued. This was a trait that one may not naturally expect from a woman raised during the Great Depression in the Bronx with all the challenges that she endured. Her choices and her thoughtful approach to life, however, led her to be an exemplary human being and a beacon for many in need of her wisdom and affection.
Initially drawn to the piano as a way to channel her passion, she was a concert-quality pianist and instructor, passing her love of music on to others. This rare and beautiful talent was evident even in her waning years when she would still play Chopin flawlessly although her other mental powers had faded.
After college, she became a teacher and with her bedrock principles of love and caring for all, she made a real difference in the lives of disadvantaged children in Harlem. Later, after marrying her lifelong soulmate, Robert, Eleanor raised three boys and was a model of unconditional love and support to not only her boys, but to her daughters-in-law and her grandchildren.
It is with great sadness that we say good bye to this unique role model of what it is to be a great spouse, mother, grandmother, and friend.
Eleanor is survived by her beloved brother Maurice Ricklin, her son Dr. Stephen Heppe and his wife Mary Jane Heppe of Hood River, Ore., her son Dr. Howard Heppe and his wife Margie Heppe of Spotsylvania, Va., and her son Dr. Richard Heppe and his wife Diane Reeder, Esq., of Cherry Hills, Colo. She is also survived by eight grandchildren, Lindsay (Trevor), Sara (Heather), Dr. Scott (Dr. Erica), Kenan, Grayson, Vaughan, Andrew, and Cameron Heppe, as well as one great grandchild, Clifton Heppe, and finally, her devoted caregiver Janet Sharp.
A celebration of her life will be held at a future date. In lieu of flowers, memorial donations may be made to Northern Virginia Ethical Society, P.O. Box 984, Vienna, VA 22183.