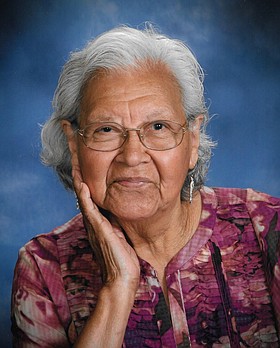 Guadalupe H. Quezada
Cook, Wash.
April 15, 1930 - July 22, 2016
Guadalupe H. Quezada died in her home in Cook, Wash., on July 22, 2016, surrounded by her loving family. She was born on April 15, 1930, in Linares, Nuevo Leon, Mexico.
During her life, she was faithful to our Lord Jesus Christ. She was preceded in death by her husband, Jose de la Luz Quezada, and three children: Fernando, Jaimie, and Esther.
Lupe is enjoying God's goodness and resting in His presence ... no more tears or suffering.
She is survived by her sister Josefina, her brother Uvaldo, and her remaining children, Jose Jr., Ruth, Eleazar, Moses, and Lidia.
Lupita also leaves a legacy of faithfulness to her 17 grandchildren: Tim, Shannon, Jacob, Jonathan, David, Caleb, Joshua, Lucas, Isaac, Johanna, Benjamin, Esther, Lydia, Kobey Jr., Jamie Ruth, Summer, and Sasha, and to her nine great grandchildren.
"Best wife, sister, mother, grandmother, and aunt! Thank you for loving us well. Everyone with whom you crossed paths absolutely loved you. You made the best tortillas and tamales on earth!"